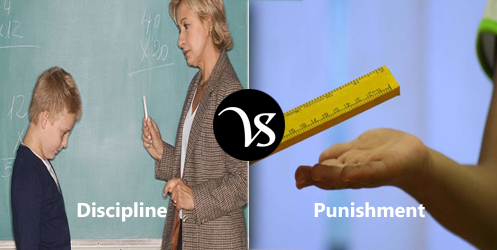 Discipline:
Discipline is guiding children and helping them learn what is expected. Discipline is used to teach and guide. It raises the self-esteem.
Punishment:
Punishment is the part of the process called discipline. Punishment is given when something is done to a person that they don't like. Punishment is given in order to control the bad behaviors. It sometimes benefits as well as harms.
Differences:
Basis
Discipline
Punishment
Definition (www.oxforddictionaries.com)
The practice of training people to obey rules or a code of behaviour, using punishment to correct disobedience
The infliction or imposition of a penalty as retribution for an offence
Objectives/Purpose
Discipline is used to teach and guide.
Punishment is used for the purposes of controlling and retribution.
Synonyms
Self-control, strictness, regulation, control and limitation
Torture, abuse, retribution, trial and beating
Antonyms
Ignorance, reward, negligence, neglect and disorder
Happiness, reward, award, praise and encouragement
Types
Its types are:

positive discipline
gentle discipline
boundary based discipline
behavior modification
emotion coaching

Its types are:

Positive punishment, punishment by application or type I punishment
Negative punishment, punishment by removal or type II punishment

Word origin
The word discipline was originated from Middle English (in the sense 'mortification by scourging oneself'): via Old French from Latin disciplina 'instruction, knowledge', from discipulus.
The word punishment was originated from Late Middle English: from Old French punissement, from the verb punir
Consequences
It focuses upon restitution and natural outcome of events.
It focuses on hurting or depriving the child.
Inspires
It motivates and encourages doing better next time.
It inspires the anger, resentment, rebellion, revenge or withdrawal.
Feelings
It preserves mutual respect of feelings and dignity.
It ignores feelings and dignity of the child.
Connection
Parent and child feel good about each other and the relationship.
Parent and child feel disconnected from each other and the relationship.
Focus
This focus on what children are expected and allowed to do.
Punishment focuses on past misbehavior and offers little or nothing which help to a child behave better in future.
Pronunciation

Eng (UK): /ˈdɪsɪplɪn/
Eng (US): /ˈdisəplən/

Eng (UK): /ˈpʌnɪʃm(ə)nt/
Eng (US): /ˈpəniSHmənt/

Self-esteem
It raises self-esteem.
It lowers self-esteem.
Struggle
It decreases power struggles, since the needs of parent and child are met.
It increases power struggles, because only the needs of parent are met.
Feels
Child feels understood.
Child feels misunderstood.
Related
It is related to misbehavior. It is sensible.
It is unrelated misbehavior. It is arbitrary.
Advantages/Benefits
Its advantages are:

being focused
respected by others
stay healthy
stay active
better education
get things done and be happy
have more time in a day
stay stress or tension free

Its advantages are:

learn expectations
figure out feelings
mistakes teach lessons

Disadvantages
Its disadvantages are:

rebellious behavior
disrespectful behavior
low self esteem
anger

Its disadvantages are:

Punishment often fails to stop and can even increase the occurrence of the undesired response
Punishment arouses strong emotional responses that may generalize
Using punishment models aggression
Internal control of behavior is not learned
Punishment can easily become abuse
Pain is strongly associated with aggression

Example in Sentence

The children need to be disciplined.
Discipline is a must when you join the army.

I don't think she deserve the punishment she got.
Your punishment is that you will write the same homework for five times.