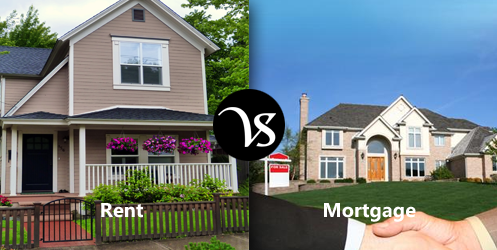 Rent:
Rent is the payment made by the tenant for the temporary use of the property of the owner. Rent is used when the situation is involved for a longer period.
Mortgage:
Mortgage is a legal agreement that provides the right of ownership on a property by its owner to a lender as security kept for a loan. In mortgage, the term debtor and creditor are used.
Differences:
Basis
Rent
Mortgage
Definition (www.oxforddictionaries.com)

A tenant's regular payment to a landlord for the use of property or a land.
A legal agreement by which a bank, building, society etc. lends money at the interest in exchange for taking title of the debtor's property, with a condition that the conveyance of the title becomes void upon the payment of the debt.
Synonyms
Payment, tariff, hire, rental, lease
Contract, debt, title, pledge, deed
Antonyms
Purchase and closed
Redeem
Types
Its types are:

Economic rent
Gross rent
Scarcity rent
Differential rent
Contract rent
Market rent
Rebated rent

Its types are:

Annuities
Interest only mortgages
Pension mortgage
Endowment mortgage
Deferred start
Discount mortgage
Offset mortgage
Fixed rate mortgage
Tracker mortgage

Word origin
The word rent was originated from Middle English: from Old French rente, from a root shared by render.
The word mortgage was originated from Late Middle English: from Old French, literally 'dead pledge', from mort (from Latin mortuus 'dead') + gage 'pledge'.
Pronunciation

Eng (UK): /rɛnt/
Eng (US): /rent/

Eng (UK): /ˈmɔːɡɪdʒ/
Eng (US): /ˈmôrɡij/

Advantages/Benefits
Its advantages are:

Renting is leasing flexibility.
By renting, one will eliminate the cost of repairs.
It is suitable if you are on a budget.
There is no property tax.

Its advantages are:

A mortgage makes home ownership affordable
A mortgage is a cost effective way of borrowing

Disadvantages
Its disadvantages are:

You are subject to the owner's rules.
There is zero return on the investment for rent payments.

Its disadvantages are:

You'll pay back a lot more than you originally borrowed.
Watch out for fees

Example in Sentence

I must pay 5000 rupees as a rent per month.
We are planning to rent a car.

They mortgage their house in order to start a company.
She may not mortgage her land without his consent.