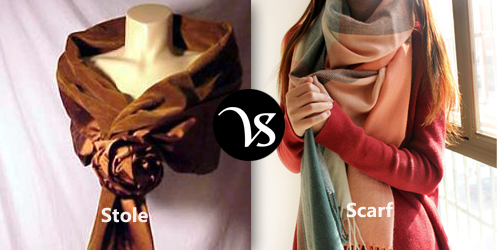 Stole:
Stole is a women's shawl which is used around the shoulders or arms. It is made up of expensive fabrics such as fur, chiffon, pashmina, silk etc. It has a greater length than a width.
Scarf:
Scarf is a piece of fabric which is worn around the neck for warmth or fashion. It is available in different colors and different fabrics. It is light in weight.
Differences:
Basis
Stole
Scarf
Definition (www.oxforddictionaries.com)
A woman's long scarf or shawl, especially of fur or similar material, worn loosely over the shoulders.
A length or square of fabric worn around the neck or head.
Synonyms
Muffler, shawl, filched, cassock, cope
Neck cloth, collar, necktie, ruff, costume, garment
Types
Its types are:

The Religious Stole
The Academic Stole
The Fashion Stole

Its types are:

Bandana Scarves
Infinity Scarves
Head Scarves
Neck Scarves
Skinny Scarves
Hip Scarves
Shemagh Scarves

Word origin
The word stole was originated from Old English (in the senses 'long robe' and 'priest's vestment'), via Latin from Greek stolē 'clothing', from stellein 'array'.
The word scarf was originated from Mid 16th century (in the sense 'sash (around the waist or over the shoulder)'): probably based on Old Northern French escarpe, probably identical with Old French escharpe 'pilgrim's scrip'.
Pronunciation

Eng (UK): /stəʊl/
Eng (US): /stōl/

Eng (UK): /skɑːf/
Eng (US): /skärf/

Advantages/Benefits
Its benefits are:

Fashion
Complements outfit
Easy to clean

Its benefits are:

Warm
Fashion
Versatility
Protection from sun
Freshen look
Easy to clean

Example in Sentence

She wore a fur stole to match her outfit.
The exhibition is about the showcase of stole and scarves.

I am knitting a scarf.
I prefer to use long scarf with denims this summer.