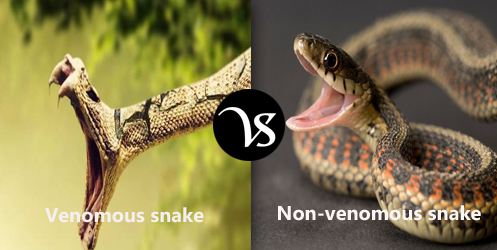 Venomous snake:
Venomous snakes are the snakes which can produce venom which is used for defense. It is used for immobilizing prey. The bite of these snakes is so dangerous that it may cause even death. The only acceptable treatment for venomous snakebite, involves the use of antivenin. They have triangle shape head.
Non-venomous snake:
Non-venomous snakes are the snakes which cannot produce toxin but they skill its prey by constriction. They are harmless to humans. They have rounded head and fangs are absent.
Differences:
Basis
Venomous snake
Non-venomous snake
Definition
(www.thefreedictionary.com)
Any serpent which has poison glands and fangs, whether dangerous to man or not. These serpents constitute two tribes, the viperine serpents, or Solenoglypha, and the cobralike serpents, or Proteroglypha. The former have perforated, erectile fangs situated in the front part of the upper jaw, and are without ordinary teeth behind the fangs; the latter have permanently erect and grooved fangs, with ordinary maxillary teeth behind them.
Not producing venom
Types
Its types are:

Rattlesnakes
Copperheads
Cotton mouths/Water moccasins
Coral snakes

Its types are:

Boas
Pythons
Bullsnakes
Kingsnakes
Northern water snake
Four lined snake
Eastern Garter snake
Rough green snake
Bull snake
Black rat snake
Milk snake
Anaconda

Produce
Venomous snakes produce venoms.
Nonvenomous snakes do not produce venoms.
Presence
Venomous snakes have fangs to deliver venoms to their prey.
No fangs are present in nonvenomous snakes.
Head shape
Most venomous snakes have a triangle-shaped head.
Nonvenomous snakes have a rounded head.
Pupils
Venomous snakes have elliptical pupils.
Nonvenomous snakes have round pupils.
Skin puncture
Venomous snakebite results in one or two punctures on the skin of the victim.
Nonvenomous snake bite results in many punctures on the skin due to maxillary teeth of the upper jaw.
Anal scales
There is one row of anal scales present in venomous snakes.
Two rows of anal scales are present in nonvenomous snakes.
Pronunciation

Eng (UK): /ˈvɛnəməs/ /sneɪk/
Eng (US): /ˈvenəməs/ /snāk/

Eng (UK): /nɒn/ /ˈvɛnəməs/ /sneɪk/
Eng (US): /nän/ /ˈvenəməs/ /snāk/

Example in Sentence

Cobra is a venomous snake which can kill an elephant.
The biting of a venomous snake immediately needs a medical attention.

The defenses of non-venomous snakes vary.
Though python is a non-venomous snake, due to its huge body it can kill human.