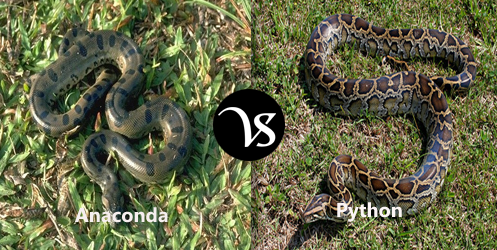 Anaconda:
Anaconda is the biggest and heaviest snake in the world. It is non-venomous from boa species. It kills its prey by squeezing until it can no longer breathe. It hunts during the night. They are found in tropical rainforests, lakes and swamps of South America.
Python:
Python is the non-venomous snake which kills its prey by constricting to death. They are found in rainforests, savannas and deserts of Africa and Asia. They have heat sensing organs which helps them to locate its prey.
Differences:
Basis
Anaconda
Python
Definition (www.oxforddictionaries.com)
A semiaquatic snake of the boa family which may grow to a great size, native to tropical South America.
A large heavy-bodied non-venomous snake occurring throughout the Old World tropics, killing prey by constriction and asphyxiation.
Synonyms
Snake, cobra, serpent, aquatic snake, constrictor
Adder, copperhead, rattlesnake, sidewinder, seer
Types
Its types are:

Green Anaconda
Bolivian Anaconda
Yellow Anaconda
Dark-Spotted Anaconda

Its types are:

Angolan python
Burmese python
Blood python
Bornean python
Indian python
Myanmar short-tailed python
North African rock python
Reticulated python
Royal python
South African rock python
Sumatran python
Timor python

Word origin
The word anaconda was originated from Mid-18th century (originally denoting a kind of Sri Lankan snake): unexplained alteration of Latin anacandaia 'python', from Sinhalese henakaňdayā 'whip snake', from hena 'lightning' + kaňda 'stem'.
The word python was originated from Late 16th century (in the Greek sense): via Latin from Greek Puthōn, the name of a huge serpent killed by Apollo. The main current sense dates from the mid-19th century.
Pronunciation

Eng (UK): /ˌanəˈkɒndə/
Eng (US): /ˌanəˈkändə/

Eng (UK): /ˈpʌɪθ(ə)n/
Eng (US): /ˈpīˌTHän/ /ˈpīTHən/

Example in Sentence

Anaconda weighs 550 pounds.
Anaconda swallows its prey in one piece.

Python is the longest snake.
Python is a good swimmer.