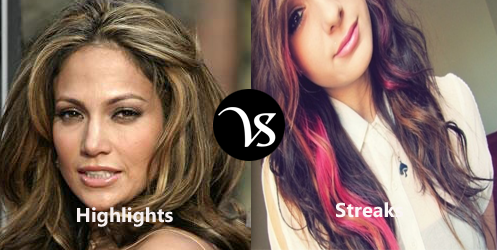 Highlights:
In highlights the thin slices of hair is colored to give a soft look. It is done with the bleaching color and foils. It is expensive. It is performed at the parlors by the beauticians with various products and equipment due to its complication.
Streaks:
In streak, thick volume of hair is colored to give a bold look which comes in the shade pink, orange or blue. It is from the root to the ends. It is for the people with short hair.
Differences:
Basis
Highlights
Streaks
Definition (www.oxforddictionaries.com)
A bright tint in the hair, especially one created artificially by bleaching or dyeing.
Dye (hair) with long, thin lines of a different colour to that of one's natural hair colour
Synonyms
Spotlight, illuminate, accentuate, underscore, underline
Stroke, strain, mark, line, line, fleck
Antonyms
Abbreviate, alleviate, cheapen, channel
Profusion, mess, quantity, abundance, boatload
Part of Speech
Noun
Verb
Types
Its types are:

Natural thin highlights
Chunky highlights
Multi-dimensional highlights
Dip dyed highlights
Frosted highlights
Balayage highlights
Foil highlights

Its types are:

Dark streaks
Light streaks
Block streaks

Word origin
The word highlight was originated in between 1850-55, Americanism.
The word streak was originated from Old English strica, of Germanic origin; related to Dutch streek and German Strich, also to strike. The sense 'run naked' originated in the US in the 1970s.
Involve
Highlights involve thinner volume of hair.
Streaks involve thicker hair.
Used
In highlights hair bleaching color is used.
In streaks colors like blue, green, pink and orange are used.
Appearance
Highlights give a deft appearance.
Streaks impart a bold look.
Pronunciation

Eng (UK): /ˈhʌɪlʌɪt/
Eng (US): /ˈhīˌlīt/

Eng (UK): /striːk/
Eng (US): /strēk/

Advantages/Benefits
Its advantages are:

Subtle hair lightening
Versatility
Dimension

Its advantages are:

It gives better control of highlight placement.
It allows for the application of multiple colors in the same procedure.
It gives easier management of the amount of highlighting you get.
It provides more even coverage in the highlights all over the scalp.
Allows the preservation of targeted areas of the hair when wanting to apply a general color and use the natural or original color as a "highlight".

Disadvantages
Its disadvantages are:

Maintenance
Cost
Hair lightening

Its disadvantages are:

Poor quality
Application not done properly
Over treating
Under treating
Reactions due to allergy
Bad effects of chemicals

Example in Sentence

She has got her hair highlight.
The beautician suggested her to highlight her hair.

She had her hair streak with red.
My hair is streaked with purple.