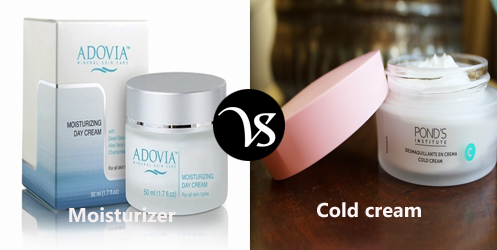 Moisturizer:
Moisturizer is the liquid which is used to hydrate the skin by increasing water content. It helps to make the skin soft and smooth. It provides protection to the skin from external factors.
Cold cream:
Cold cream is an emulsion of water and fats which softens and cleans the skin. It keeps the skin hydrated and glowing. It is thick in consistency and mostly preferred for the cold seasons to protect the skin from the cold and dry climate.
Differences:
Basis
Moisturizer
Cold cream
Definition (www.oxforddictionaries.com)
A cosmetic preparation used to prevent dryness in the skin
A cosmetic preparation used for cleansing and softening the skin.
Objectives/Purpose
The main purpose of a facial moisturizer is to hydrate the skin, and to reinforce the natural skin barrier.
The primary use of the cream is for skin treatment because of the mineral ingredients that are in the cream; it works as a moisturizer and works really well for those that have very dry skin.
Synonyms
Cream, emollient
Vanishing cream, face cream, clown white, cleaning agent
History
According to anthropologists, humans have been using some sort of moisturizer for the past 10,000 years. People in Africa and Brazil used palm oil, Native American tribes used animal fat to keep skin soft and supple while Latin American women were partial to avocado.
The invention of cold cream is credited to Galen, a physician in second century Greece.
Word origin
The word moisturizer was originated in between 1955-60.
The word cold cream was originated in between 1700-10.
Nature
It is thinner.
It is thicker.
Time of usage
Used in the day and in all seasons.
Used at night and generally in winter.
Pronunciation

Eng (UK): /ˈmɔɪstʃərʌɪzə/
Eng (US): /ˈmoisCHəˌrīzər/

Eng (UK): /kəʊld/ /kriːm/
Eng (US): /kōld/ /krēm/

Main function
Moisturizers are strictly for moisturizing.
Cold creams are typically a cleanser or a very rich moisturizer
Advantages/Benefits
Its merits are:

Hydrates skin
Provides SPF
Makes skin soft and smooth

Its merits are:

Cleanser
Softens skin
Hydrates skin

Disadvantages
Its demerits are:

Difficult to find the right type

Its demerits are:

Suitable for cold weather

Example in Sentence

Though my skin is oily, I use a moisturizer.
I want a water based moisturizer.

I am using cold cream due to cold weather.
Cold creams are very applicable for removing makeup.