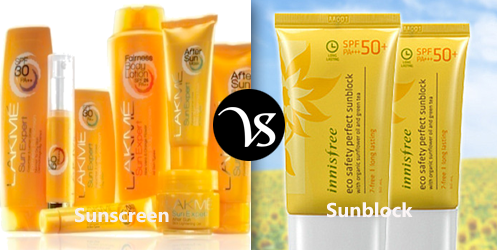 Sunscreen:
Sunscreen is the lotion which protects the skin from sun's harmful rays. It helps to reduce sunburn and sun damage. Sunscreen penetrates the sun's rays to the skin but filter some of the radiation in the ultra violet spectrum.
Sunblock:
Sunblock is the lotion which reflects the UVA sand UVB rays. It should be reapplied every two hours. There is no sun block which can fully reflect the UV rays. Sunblock prevents the Sun's rays from reaching skin by reflecting them away or absorbing them, changing their structure and releasing them.
Differences:
Basis
Sunscreen
Sunblock
Definition (www.oxforddictionaries.com)
An active ingredient of creams and lotions intended to protect skin from the sun
A cream or lotion for protecting the skin from the sun and preventing sunburn.
Synonyms
Sun cream, face cream, suntan lotion, ointment, lanolin
Sun blocker
Types
Its types are:

Gel sunscreen
Cream sunscreen
Sunscreen lotions
Sunscreen wipe
Spray sunscreen
Colored sunscreen
Powder sunscreen

Its types are:

Physical sunblock
Chemical sunblock

History
Early synthetic sunscreens were first used in 1928, and the first major commercial product was brought to market in 1936, introduced by the founder of L'Oreal, French chemist Eugène Schueller.
The first commercial sunblock was invented in 1936.
Word origin
The word sunscreen was originated in between 1730-40.
The word sunblock was originated in between 1975-80.
Product
Liquid form
Creamier form
Prevents
It prevents from UV radiations and reduces the amount of radiation that reaches skin.
It prevents from UV radiations and it completely blocks the radiation from reaching the skin.
When applied
Transparent and invisible when applied
Thicker and remain visible
Main ingredients

Aminobezoic Acid
Avobenzone
Benzophenone
Cinoxate
Dioxybenzone
Ensulizole
Homosalate
Meradimate
Octisalate
Octinoxate
Octocrylene
Oxybenzone
PABA
Sulisobenzone
Trolamine Salicylate

Titanium dioxide
Zinc oxide
Iron oxide

Must be applied
30 minutes before going out in the sun.
Effective as soon as it is applied, so that it can be applied immediately before sun exposure.
Pronunciation

Eng (UK): /ˈsʌnskriːn/
Eng (US): /ˈsənˌskrēn/

Eng (UK): /ˈsʌnblɒk/
Eng (US): /ˈsənˌbläk/

Advantages/Benefits
Its advantages are:

Shield from harmful UV rays
Prevents premature aging
Lowers cancer risks
Lowers blotchiness on face
Prevents sunburns
Prevents tanning
Enhance health of the skin

Its advantages are:

Prevents premature aging
Prevents skin cancer

Disadvantages
Its disadvantages are:

Blocks vitamin D
Chemicals
Leaves white streaks
Reapply more often

Its disadvantages are:

Thick, opaque consistency
Greasy and clog the pores

Example in Sentence

I always apply sunscreen before going outdoors.
You should wear a sunscreen.

I use sunblock to prevent from sun damage.
The sun is high so I put on some sunscreen.