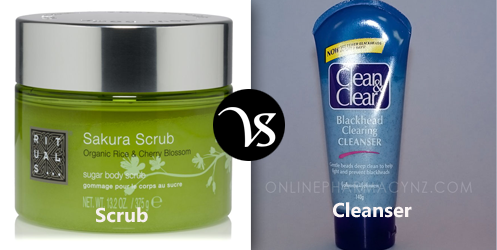 Scrub:
Scrub is the product which is used for exfoliation or to remove dead cells on the face. It keeps the skin smooth and glowing. After the scrub is being used, the face should be moisturized to prevent from dryness.
Cleanser:
Cleanser is the face product which is used to remove makeup, oil, dirt, etc. from the face. It is a part of skin care routine.
Differences:
Basis
Scrub
Cleanser
Definition
a beauty product or treatment which cleanses and exfoliates the skin of the face
(www.collinsdictionary.com)
A substance that cleanses something, especially a cosmetic product for cleansing the skin
(www.oxforddictionaries.com)
Objectives/Purpose
The purpose of using scrub is to remove dead skin cells.
The purpose of using cleanser is to remove dirt.
Synonyms
Cleanse, rub, brush, rasp, launder
Purifier, refiner, clearer, borax, cream
Antonyms
Organize, set up, apparel, assemble, align
Stainer, spotter, polluter, dirtier, contaminator
Word origin
The word scrub was originated from Late 16th century: probably from Middle Low German, Middle Dutch schrobben, schrubben.
The word cleanser was originated before 1000 from Middle English; Old English clǣnsere.
Pronunciation

Eng (UK): /skrʌb/
Eng (US): /skrəb/

Eng (UK): /ˈklenzə/
Eng (US): /ˈklenzər/

Advantages/Benefits
Its benefits are:

They help to remove and grim the dirt
Spot prevention and Clearer complexion
Flake free skin
Boost aging complex

Its benefits are:

Removes dirt and debris
Prevents oil secretion in face
Provides a calm and soothing sensation to the skin
Eliminates surface bacteria
Imparts new and fresh skin texture
Removes excess toxins from the skin

Disadvantages
Its disadvantages are:

Using too much of scrub damages the facial skin

Its disadvantages are:

Over drying
Skin irritation

Example in Sentence

She uses face scrub once a week.
Using face scrub daily over dries the skin.

There are different cleansers for different skin types.
I always moisturize my face after using cleanser.