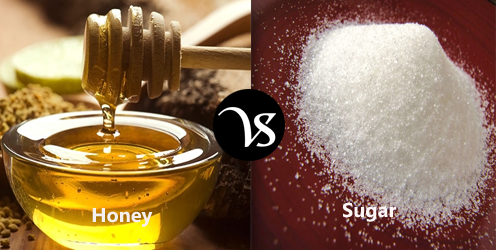 Honey:
Honey is a sweet food made by the honeybees using nectar from flowers. According to the flowers being used by the bees, the taste of honey also becomes different. It has a lot of health benefits.
Sugar:
Sugar is the sweet, short chain and soluble carbohydrates which is used as food. It is extracted from sugarcane and sugar beet. Sugars are carbohydrates which provide us energy.
Differences:
Basis
Honey
Sugar
Definition (www.oxforddictionaries.com)
A sweet, sticky yellowish-brown fluid made by bees and other insects from nectar collected from flowers.
A sweet crystalline substance obtained from various plants, especially sugar cane and sugar beet, consisting essentially of sucrose, and used as a sweetener in food and drink
Synonyms
Sweet, precious, sweeten, yellow
Kale, bread, sweet, shekels, boodle
Types
Its types are:

Manuka
Buckwheat
Alfalfa
Clover
Blueberry
Wildflower
Orange Blossom
Monofloral
Medihoney
Honeydew
Polyfloral
Blended

Its types are:

Granulated sugar
Caster sugar
Confectioners Sugar
Pearl Sugar
Sanding Sugar
Cane Sugar
Demerara Sugar
Turbinado Sugar
Muscovado Sugar
Light Brown Sugar
Dark Brown Sugar

History
Humans apparently began hunting for honey at least 8,000 years ago, as evidenced by a cave painting in Valencia, Spain. The painting is a Mesolithic rock painting, showing two honey-hunters collecting honey and honeycomb from a wild bee nest.
It is not known where sugar originated, but it is thought to have first been used in the Polynesian Islands of the Pacific Ocean over 5,000 years ago.
Word origin
The word honey was originated from Old English hunig, of Germanic origin; related to Dutch honig and German Honig.
The word sugar was originated from Middle English: from Old French sukere, from Italian zucchero, probably via medieval Latin from Arabic sukkar.
Usage
The uses of honey are:

Improve digestion
Relieve nausea
Acne cure
Exfoliator
Improve diabetes
Lower cholesterol
Improve circulation
Antioxidant support
Restore sleep
Pre-biotic support
Improve allergies
Lose weight
Moisturize
Hair mask
Eczema relief
Reduce inflammation
Heal wounds
Cure UTI
Shampoo
Relive sore throat

Its uses are:

Treat a wound
Soothe a singed tongue
Ease a spicy burn
Make a body scrub
Clean cruddy hands
Trap wasps
Makes lipstick last
Smoothed lips
Clean grinder

Pronunciation

Eng (UK): /ˈhʌni/
Eng (US): /ˈhənē/

Eng (UK): /ˈʃʊɡə/
Eng (US): /ˈSHo͝oɡər/

Color
Honey is golden in colour and in liquid form.
Sugar is white and is seen in grain form.
Advantages/Benefits
Its advantages are:

Alleviates Allergies
All-Natural Energy Drink
Boosts Memory
Cough Suppressant
Sleep Aid
Treats Dandruff
Treats Wounds And Burns

Its advantages are:

Calorie content
Diabetes
Skin health
Less processed
Blood and insulin benefits
Minerals and nutrients
Environment benefits

Disadvantages
Its disadvantages are:

High sugar levels
Not suitable for infants
Weight gain
Type 2 diabetes
Heart disease

Its disadvantages are:

Weight gain
Tooth decay
Diabetes
Promotes inflammation

Example in Sentence

I put some honey in my toast.
She added honey to her tea.

Put one spoon of sugar in my coffee.
I forgot to put sugar in the tea.