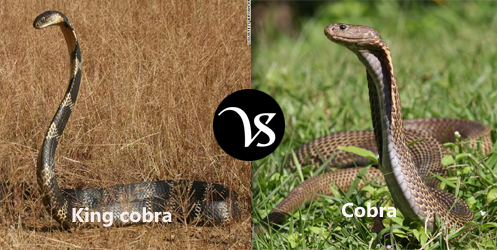 King cobra:
King cobra is the longest venomous snake which can kill the human with a single bite. It is found in Southeast Asia in Pakistan and India. It grows up to 18 feet in length. It is extremely dangerous. The cobra eats other snakes.
Cobra:
Cobra is the venomous snake which spread their neck ribs to form a flattened, widened hood. They inject a large amount of venom in a single bite. They have excellent vision and sense of smell.
Differences:
Basis
King cobra
Cobra
Definition (www.oxforddictionaries.com)
A brownish cobra with an orange-cream throat patch, native to southern Asia. It is the largest of all venomous snakes. Also called hamadryad.
A highly venomous African or Asian snake that spreads the skin of its neck into a hood when disturbed.
Synonyms
Ophiophagus hannan, Naja Hannah, snake, hooded snake, hamadryad
Adder, viper, copperhead, rattler, sidewinder
Word origin
The word king cobra was originated in between 1890-95.
The word cobra was originated from mid 17th century: from Portuguese cobra de capello, literally 'snake with hood,' based on Latin colubra 'snake.'
Size
It is heavier than cobra.
It is lighter than king cobra.
Pronunciation

Eng (UK): /kɪŋ/ /ˈkəʊbrə/ /ˈkɒbrə/
Eng (US): /kiNG/ /ˈkōbrə/

Eng (UK): /ˈkəʊbrə/ /ˈkɒbrə/
Eng (US): /ˈkōbrə/

Example in Sentence

The king cobra can raise 1/3 of its body.
King cobra is not a real cobra.

The cobra killed an elephant by injecting the venom.
Cobra raise its head when it is angry or frightened.