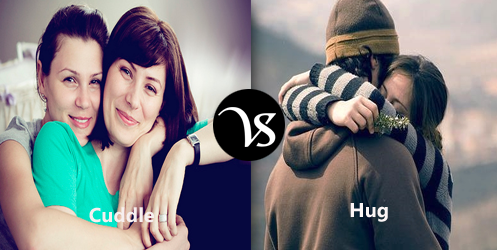 Cuddle:
Cuddle is to hold each other close to show affection, closeness, love and comfort.
Hug:
Hug is to hold someone close to the arms to show the value, love or like. It indicates support and consolation when the words are insufficient.
Differences:
Basis
Cuddle
Hug
Definition (www.oxforddictionaries.com)
Hold close in one's arms as a way of showing love or affection
Squeeze (someone) tightly in one's arms, typically to express affection
Synonyms
Embrace, touch, clasp, enfold, burrow
Clinch, hold, clutch, grasp, snuggle, grip
Antonyms
Adjourn, boggle, cowardice, contract, blanch
Release, unfasten, unlock, push away, banish
Types
Its types are:

The Heartfelt Headlock
The Sleepytime Cuddle
The Classic Big Spoon/Little Spoon
The Nuzzle Cuddle
The Consolation Cuddle
The Tummy Nuzzle
The Friendship Cuddle
The Stomach Cuddle
The Couch Cuddle
The Group Cuddle
The Bottom Snuggle
The Snug Hug

Its types are:

The sneak hug
Hug with a gentle rub
The waist wrap hug
Hug with a pat
Hug with touching his head to yours

Word origin
The word cuddle was originated from early 16th century (rare before the 18th century): of unknown origin.
The word hug was originated from Mid-16th century: probably of Scandinavian origin and related to Norwegian hugga 'comfort, console'.
Acceptance
Cuddling is looked down upon as a "public display of affection" in even the most modern cultures.
Hugging is usually accepted in almost all cultures publicly.
Done
Cuddling is done more while sitting or lying down.
Hugging is done standing
Expresses
Cuddling is always romantic except between parent and child).
Hugging can be an expression of joy or happiness
Mutual
A cuddle can be mutual, or one person gives it while other receives it.
A hug is mutual.
Embrace
Long embrace
Brief embrace
Between
It takes place mostly between romantic couple or a mother and a kid.
It takes place between people of all age groups.
Pronunciation

Eng (UK): /ˈkʌd(ə)l/
Eng (US): /ˈkədl/

Eng (UK): /hʌɡ/
Eng (US): /həɡ/

Advantages/Benefits
Its advantages are:

It can give your immune system a boost.
It helps you face your fears.
It can save your relationship.
It lowers your blood pressure.
It lowers your blood pressure.
It can reduce stress.

Its advantages are:

Reduce worry of mortality
Strengthens the immune system
Acts as a natural stress reliever
Lowers blood pressure levels
Burns calories
Relaxes muscle tension
Promotes brain health and memory

Example in Sentence

The mother cuddles her baby in her arms.
He gave his girlfriend a cuddle.

Can I hug you?
I gave her a big hug.