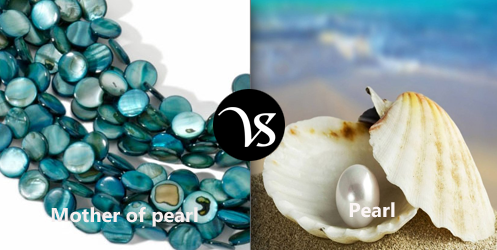 Mother of pearl:
Mother of pearl is a hard, shiny and smooth substance which forms inside the shells used for making buttons. It is also called nacre. It has several natural colors.
Pearl:
Pearl is the hard object which is found inside the nacreous shells. It is a living gem. It comes from the sea living creature called oyster. Pearls are used for jewelery.
Differences:
Basis
Mother of pearl
Pearl
Definition (www.oxforddictionaries.com)
A smooth shining iridescent substance forming the inner layer of the shell of some molluscs, especially oysters and abalones, used in ornamentation
A hard, lustrous spherical mass, typically white or bluish-grey, formed within the shell of a pearl oyster or other bivalve mollusc and highly prized as a gem
Synonyms
Nacre, the mother of pearl Inlay
Treasure, gem, jewel, ivory, nacre, prize
History
Going as far back as 2400-2600 B.C., beautiful musical instruments with mother-of-pearl inlays were buried in the tombs of Sumerian royalty from ancient Mesopotamia. Early Polynesians and Australians valued mother-of-pearl more than pearls — they would harvest the pearl oysters for the shells and discard the pearls. Ancient Chinese offered mother-of-pearl beads and carvings to the gods hoping it would bring them luck.
Before the beginning of the 20th century, pearl hunting was the most common way of harvesting pearls. Divers manually pulled oysters from ocean floors and river bottoms and checked them individually for pearls. Not all mussels and oysters produce pearls. In a haul of three tons, only three or four oysters will produce perfect pearls.
Word origin
The word mother of pearl was originated in between 1500-10; compare Italian madreperla, obsolete French mère perle.
The word pearl was originated from Late Middle English: from Old French perle, perhaps based on Latin perna 'leg', extended to denote a leg-of-mutton-shaped bivalve.
Pronunciation

Eng (UK): /mʌðərəvˈpəːl/
Eng (US): /ˈməT͟Hər/ /əv/ /pərl/

Eng (UK): /pərl/
Eng (US): /pərl/

Example in Sentence

The shirt button is made from the mother of pearl.
They have used mother of pearl buttons for men's coats.

I am wearing a pearl ring nowadays.
She gave me a pearl necklace as a gift.