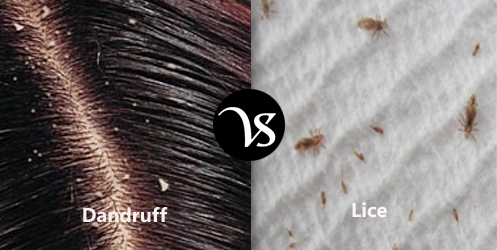 Dandruff:
Dandruff is the scalp condition which causes the flake of skin to appear. The one who have dandruff feels itchy scalp. It is harmless as well as it can be controlled.
Lice:
Lice are the wingless insects which are found in hair. They feed on debris and blood. They are tiny insects. It transfers from one hair to another.
Differences:
Basis
Dandruff
Lice
Definition
Small pieces of dead skin in a person's hair (www.oxforddictionaries.com)
Any small, wingless insect of the order Anoplura (sucking louse) parasitic on humans and other mammals and having mouthparts adapted for sucking, as Pediculus humanus (body louse or head louse) and Phthirius pubis (crab louse or pubic louse)
(www.dictionaryreference.com)
Synonyms
Flake, carrion, dead skin, decay, excrement
Fleas, parasite, blowflies, cicadas, chinches, vermin
Types
Its types are:

Dry Dandruff or Pityriasis Simplex
Greasy Dandruff or Steatoid Pityriasis

Its types are:

Head lice
Body lice
Pubic lice

Word origin
The word dandruff was originated from Mid-16th century: the first element is unknown; the second (-ruff) is perhaps related to Middle English rove 'quality of being scurfy'.
The word lice was originated before 900; 1910-15 for def 4; Middle English lous (e), luse, plural lise, lice; Old English lūs, plural lȳs; cognate with Dutch luis, German Laus, Old Norse lūs
Causes
Its causes are:

Dry skin
Irritated, oily skin
Not shampooing often enough
Other skin conditions
A yeast like fungus
Sensitivity to hair products

Its causes are:

Touching your head to an infected person's head
Sharing the personal items (e.g., comb) of someone with head lice
Using a fabric item after an infected person

Symptoms
Its symptoms are:

Flakes of skin that range from small and white to large, greasy, and yellow
Itchy flaking that appears on the scalp or eyebrows; around the hairline, ears, or nose; or in the center of the chest or back

Its symptoms are:

Extreme scalp itchiness
Feeling like something is crawling on your scalp
Sores and scabs on your scalp from scratching

Infestation
Dandruff cannot be an infestation.
It can become a full-blown infestation if proper care is not taken.
Lays
Dandruff cannot lay any eggs.
Lice are able to lay eggs.
Color
Dandruff is white in color.
Lice appear dark in color when they are living.
Falls
Dandruff falls off randomly.
Lice stick to the hair and scalp.
Pronunciation

Eng (UK): /ˈdandrʌf/
Eng (US): /ˈdandrəf/

Eng (UK): /lʌɪs/
Eng (US): /līs/

Nature
A common scalp disorder – Skin condition
Parasite – living organism
Affects
Almost half of the population at the post-pubertal age and of any sex and ethnicity.
Head lice are a very common problem, affecting millions of people each year, especially preschool and elementary school-aged children and their close contacts.
Treatment
Frequent or daily use of over-the-counter dandruff or medicated shampoos. Apply mineral oil on scalp or affected area.
Comb wet hair with a fine-toothed or nit comb to remove lice from wet hair. Repeat every three to four days for at least two weeks. Nonprescription shampoo that's specifically formulated to kill lice.
Made of
Dandruff has been blamed on a multiplicity of causes, including dry skin, oily skin, too much or too little hair washing, diet, stress or hygiene. However, the real cause of dandruff is actually a yeast-like fungus, Malassezia globosa, which lives on your scalp, feeding on skin oils.
The history goes back much years–in fact over 5 million years. It is generally thought that human head lice evolved from head lice on chimpanzees over 5.5 million years ago.
Example in Sentence

There is dandruff on his shoulders.
You should use antidandruff shampoo to treat dandruff.

The lice on the head are very annoying.
Head lice combs helps to get rid of lice.