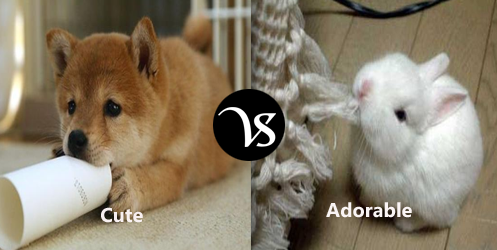 Cute:
Cute is the one who have pleasing and youthful appearance. It is an appreciable thing. It specifies someone's features, nature and habit.
Adorable:
Adorable is the one which is very delightful and attractive. It reflects the charm and difference of a person.
Differences:
Basis
Cute
Adorable
Definition (www.oxforddictionaries.com)
Attractive in a pretty or endearing way
Inspiring great affection or delight
Features
Cute is just pure beauty with sweetness and kindness. In fact, it is not necessary that a cute person must have highly attractive features with splendid beauty, however, purity, sweetness and simplicity is the criteria of calling a person "cute". Cute refers to the prettiness, sexiness and gorgeousness.
Adorable is the word used to describe very pleasant beauty without any cleverness or artificial delightfulness. This is concerned with the real affections and feelings related to the actual quality which anyone possesses.
Synonyms
Charming, delightful, pleasing, nice, alluring
Cute, loveable, darling, delightful, delicious
Antonyms
Ugly, unappealing, offensive, serious, sincere, open
Hateful, disgusting, horrible, nasty, monstrous
Also reflects
It also reflects someone as sexy and with a flirty point of view.
Here it does not mean sexy and is also not taken in a flirty point of view, it reflects the charm.
Word origin
The word cute was originated from early 18th century (in the sense 'clever, shrewd'): shortening of acute.
The word adorable was originated from Early 17th century (in the sense 'worthy of divine worship'): from French, from Latin adorabilis, from the verb adorare (see adore).
Pronunciation

Eng (UK): /kjuːt/
Eng (US): /kyo͞ot/

Eng (UK): /əˈdɔːrəb(ə)l/
Eng (US): /əˈdôrəb(ə)l/

Example in Sentence

His girlfriend is so cute.
You are pretty cute.

She is adorable.
She is looking adorable in her new dress.