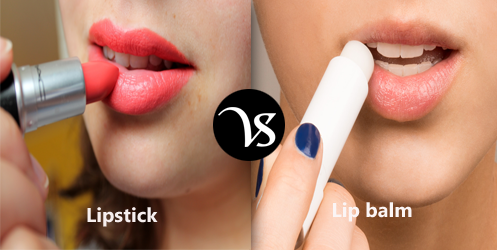 Lipstick:
Lipstick is the cosmetic which is used to color lips. It helps to add color and hydrate the lips. It is available in stick form.
Lip balm:
Lip balm is the cosmetic which is applied on the lips to relief dry and chapped lips. It prevents from sun damage. It may be found in a tube or stick.
Differences:
Basis
Lipstick
Lip balm
Definition (www.oxforddictionaries.com)
Coloured cosmetic applied to the lips from a small solid stick
A preparation applied to soothe sore or cracked lips
Synonyms
Lip rouge, base, cosmetics, blush, crimson
Lip salve
Types
Its types are:

Moisturizing lipsticks
Satin and sheer lipsticks
Matte lipsticks
Cream sticks
Pearl and frosted lipsticks
Gloss lipstick
Long wearing and transfer resistant lipsticks

Its types are:

Petroleum jelly
Medicated lip balm
Protecting lip balms

History
Ancient Sumerian men and women were possibly the first to invent and wear lipstick, about 5,000 years ago. They crushed gemstones and used them to decorate their faces, mainly on the lips and around the eyes.
Lip balm was first marketed in the 1880s by Charles Browne Fleet, though its origins may trace to earwax.
Word origin
The word lipstick was originated in between 1875-80.
The word lip- balm was originated in 1877.
Shades
Brandy, hot pink, chocolate, Plum, cappuccino, blush, spice, red, etc.
Orange, fruity jelly, baby pink, etc., however, each shade will usually only give a shining look.
Flavors

Flavored lipsticks are very recent trend in the makeup industry.
Chocolate flavor
Caramel flavor
Bubble-gum flavor etc.

Chocolate lip balm
Orange lip balm
Beer lip balm
Menthol lip balm etc.

Pronunciation

Eng (UK): /ˈlɪpstɪk/
Eng (US): /ˈlipˌstik/

Eng (UK): /lɪp/ /bɑːm/
Eng (US): /ˈlip ˌbä(l)m/

Made of
Lipsticks may be made from several waxes such as beeswax, ozokerite and candelilla wax. The high melting Carnauba wax is a key ingredient in terms of strengthening the lipstick. Various oils and fats are also used in lipsticks, such as olive oil, mineral oil, cocoa butter, lanolin, and petrolatum.
Lip balm or lip salve is a wax-like substance applied topically to the lips of the mouth to moisturize and relieve chapped or dry lips, angular cheilitis, stomatitis, or cold sores. Lip balm often contains beeswax or carnauba wax, camphor, cetyl alcohol, lanolin, paraffin, and petrolatum, among other ingredients.
Advantages/Benefits
Its advantages are:

Confidence
Sun protection
Lips appear fuller
Posture
Defines mouth
Protects and moisturizes lips

Its advantages are:

Protection from sun
Flavored ingredients
Cost effective products

Disadvantages
Its advantages are:

Highly toxic substance
Breakouts around the mouth
Can't easily apply without mirror
Not very casual

Its disadvantages are:

Lip balms are made of low quality ingredients harms the lips.
Lip balm addiction.
It can damage the natural color, softness and glow of the lips.
Some lips balm may dry out the lips instead of moisturizing.

Example in Sentence

She is wearing red lipstick.
I use soft shades of lipstick.

She always carries a lip balm on her bag.
I want a lip balm with SPF 20.