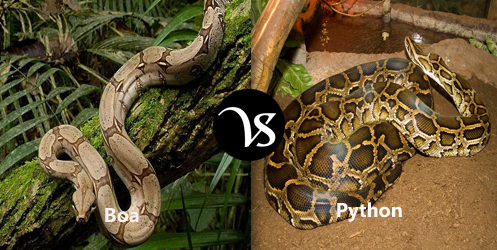 Boa:
Boa is the snake which has the body about 4 meters. They have smaller teeth in comparison to other snakes. They are found in North, Central and South America. They are nonpoisonous. They stay on a dry land. They are hunted for their skin. This snake feeds on lizards, birds, monkeys, rats and squirrels.
Python:
Python is the constricting snake which is 8.7 meters long. They are the largest snake in the world. They are found in Australia, Southeast Asia and Africa. This snake can live up to 30 years. They live in a thick and dense forests and dry areas. They have more bones in their head.
Differences:
Basis
Ipad
Python
Definition
(www.oxforddictionaries.com)
A constrictor snake which bears live young and may reach great size, native to America, Africa, Asia, and some Pacific islands.
A large heavy-bodied non-venomous snake occurring throughout the Old World tropics, killing prey by constriction and asphyxiation.
Synonyms
Constrictor, cobra, bib, serpent, mantle
Anaconda, copperhead, rattlesnake, adder, snake
Types
Its types are:

Boa constrictors
Rainbow boas
New World Tree Boas
Madagascan Boas
New Guinea Boas
Not Quite Boas

Its types are:

Carpet python
Green tree python
Ball python
Burmese python
Reticulated python

Word origin
The word boa was originated from Late Middle English: from Latin (mentioned in the writings of Pliny), of unknown ultimate origin.
The word python was originated from Late 16th century (in the Greek sense): via Latin from Greek Puthōn, the name of a huge serpent killed by Apollo. The main current sense dates from the mid 19th century.
Pronunciation

Eng (UK): /ˈbəʊə/
Eng (US): /ˈbōə/

Eng (UK): /ˈpʌɪθ(ə)n/
Eng (US): /ˈpīˌTHän/ /ˈpīTHən/

Birth
Boas give birth to a young.
Python lays eggs.
Example in Sentence

Boa is the greatest predators.
Boa prefers the prey as bats.

Pythons are aggressive attackers.
Reticulated python is one of the longest known python species.