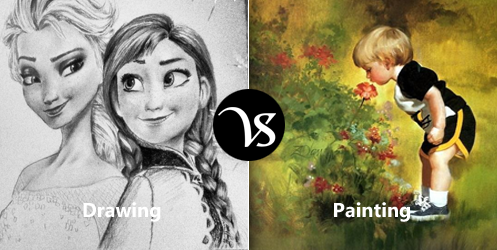 Drawing:
Drawings are the pictures made by making lines on the surface. Pencils, chalk, crayons, pastels, pen and ink are used while making drawings. Drawings are made on the paper.
Painting:
A painting is an image created by using colors on the paper or canvas as a surface. Paintings can express emotions and ideas. Paintings need sufficient time to dry.
Differences:
Basis
Drawing
Painting
Definition (www.oxforddictionaries.com)
A picture or diagram made with a pencil, pen, or crayon rather than paint.
The action or skill of using paint, either in a picture or as decoration.
Objectives/Purpose
The objectives of drawing are:

making
perceiving
expressing
contextualizing

Its objectives are:

Develop a working concept of what it means to be an artist and create paintings.
Reinforcing the principles of traditional painting skills.
Developing new ways of thinking, seeing and creating.
Building confidence through exercises that help you explore different types of paintings.

Synonyms
Design, cartoon, layout, sketch, picture
Landscape, portrait, art, composition and canvas
Antonyms
Unpictured, undrawn, undepicted, undelineated
Discolor, flawlessness, colorlessness and bleach
Types
The types of drawings are:

Life drawing
Emotive drawing
Sketching
Analytic drawing
Perspective drawing
Geometric drawing
iagrammatic drawing
Illustration drawing

The types of paintings are:

Self portrait
Still life
Landscape
Interior
Seascape
Cityscape
Real life
Abstract

History
Across cultures, and spanning continents and millennia, the history of painting is an ongoing river of creativity that continues into the 21st century. Until the early 20th century it relied primarily on representational, religious and classical motifs, after which time more purely abstract and conceptual approaches gained favor.
Some 20,000 years ago, early humans ground up earth, charcoal, and minerals, and used the colored powders to create images on cave walls. Sometimes the powders were mixed with saliva or animal fat to form a fluid, which was blown through reeds, or applied with fingers. The first paintings were of hunting scenes.
Focus
Drawing focuses on the outline and form of an object or subject.
Paintings focus on the colors and textures.
Characterized
Drawing is categorized by lines and shades.
Painting is categorized by colors and designs.
Drying
Drawing needs no time to dry.
Painting needs sufficient time to dry.
Terminology
A person who draws is called an artist.
A person who paints is called either an artist or painter.
Uses
The use of brush is not needed but instead of that pencil, charcoal, pens or even inks can be used.
The different kinds of brush are needed to be used in the case of painting.
Easy
Drawings are easier to be made than in comparison to paintings.
Paintings are difficult to be made than comparing to drawings.
Erase
It can be erased easily.
It cannot be erased easily.
Pronunciation

Eng (UK): /ˈdrɔː(r)ɪŋ/
Eng (US): /ˈdrô.iNG/

Eng (UK): /ˈpeɪntɪŋ/
Eng (US): /ˈpān(t)iNG/

Market value
The work of drawing does not have a greater value.
The work of painting has a greater value.
Advantages/Benefits
Its benefits are:

Communication benefits
Motor skill benefits
Cerebral benefits
Mental health benefits
Pleasure and fun benefits

Its advantages are:

Communication
Therapy
Self-esteem
Mobility
Concentration and Healing
Mental Health
Brain activity
Emotional intelligence
Art appreciation
Culture
Fun

Example in Sentence

She is drawing a sketch of her mother.
Pencils, pens and erasers are the requirements for drawing.

The original painting of Mona Lisa is much expensive.
Painting needs paint and brush.