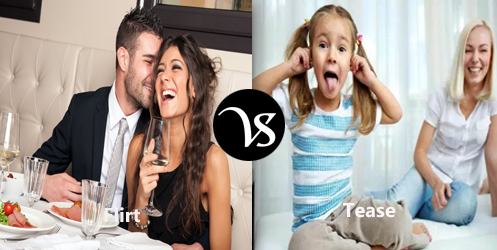 Flirt:
Flirt is the behavior of showing interest on the other person. It includes body language, conversation etc. It may not be related to the serious intentions.
Tease:
Tease is to make a fun of someone annoyingly. The teasing might be hurtful and annoying for the other person. It is playful and fun. The one can be teased by bullying or taunting.
Differences:
Basis
Flirt
Tease
Definition (www.oxforddictionaries.com)
Behave as though sexually attracted to someone, but playfully rather than with serious intentions
Make fun of or attempt to provoke (a person or animal) in a playful way
Synonyms
Wanton, toy with, coquet, vamp, philander
Twit, torment, bother, worry, razz
Antonyms
Drudge, elude, hustle, zoom, outshine, outdo
Allay, champion, clapping, charm, becalm
Word origin
The word flirt was originated in Mid 16th century: apparently symbolic, the elements fl- and -irt both suggesting sudden movement; compare with flick and spurt. The original verb senses were 'give someone a sharp blow' and 'sneer at'; the earliest noun senses were 'joke, jibe' and 'flighty girl' (defined by Dr Johnson as 'a pert young hussey'), with a notion originally of cheeky behaviour, later of playfully amorous behaviour.
The word tease was originated from Old English tǣsan, of West Germanic origin; related to Dutch teezen and German dialect zeisen, also to teasel. Sense 1 is a development of the earlier and more serious 'irritate by annoying actions' (early 17th century), a figurative use of the word's original sense.
Intentions

Simply for fun
A way to know the other person and head towards serious relationships
For mate selection

To annoy the other person
To provoke the other person
For fun
For bonding with the other person
To irritate the other person

Relationship
Flirting may use playful teasing to get the attraction of the other person
Playful teasing may be used for flirting
Usage

Positive connotation – just a joyful act
Negative connotation – the flirter portrays that he/she is in love with the other person, and the other person takes it so seriously

Positive connotation – a joyful act between friends, couples, etc. for amusement.
Negative connotation – to irritate or annoy the person due to bad intentions.

Pronunciation

Eng (UK): /fləːt/
Eng (US): /flərt/

Eng (UK): /tiːz/
Eng (US): /tēz/

Example in Sentence

He is such a flirt.
He flirts with every girl he met.

Don't tease.
He's a big teaser.