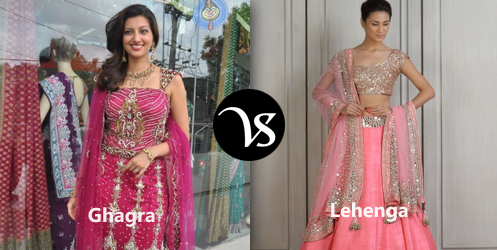 Ghagra:
Ghagra is a combination outfit of pleated skirt, fitted blouse and a dupatta. It is worn mostly on rajasthan, gujrat, haryana etc. The skirt is made up of cotton, silk or others and it is worn with matching choli.
Lehenga:
Lehenga is a long skirt which is worn with short blouse and a dupatta. It is especially worn during occasions, functions and other festivals. It is expensive due to brocade work. There are various designs and styles of lehenga.
Differences:
Basis
Ghagra
Lehenga
Definition
(www.oxforddictionaries.com)
A long full skirt, often decorated with embroidery, mirrors, or bells.
A full ankle-length skirt worn by Indian women, usually on formal or ceremonial occasions.
Types
Its types are:

Circular/ Flared Lehenga
Mermaid/ Fishtail Lehenga
Panelled Lehenga
A-Line Lehenga
Sharara cut Lehenga
Straight Cut Lehenga
Lehangas with a Jacket
Half Saree Lehenga

Its types are:

Straight Cut Lehengas
Fish Tail Lehengas
Mermaid Lehengas
Paneled Lehengas
Circular Lehengas
A Line Lehengas
Full Flair Lehengas

History
Until the early 20th century, women irrespective of class largely wore gagras which reached down to ankles, especially in Hindi belt. This was largely due to jeweled toes showed marital status of women as both married and unmarried women observed Ghoonghat. Gagras were made out of two to three layers of coarse khadi fabric which created large flared look and remained largely undecorated but were decorated with gota and badla embroidery on special occasions.
The ancient version of skirt or Ghagri evolved from Bhairnivasani, which in turn evolved from the Antariya when stitched on one side became tabular and was worn gathered together at the waist, and held by a girdle. This was one of the earliest forms of a stitched skirt. It was worn using drawstring or nada.
Word origin
The word ghagra was originated from Hindi ghāghrā, from Sanskrit gharghara 'gurgle, rattle'.
The word lehenga was originated from Punjabi lehnga.
Worn
Ghagra is a traditional skirt worn in daily lives by girls and women.
Lehenga is worn on festivals and special events.
Pronunciation

Eng (UK): /ˈɡaɡrə/ /ˈɡɑːɡrɑː/
Eng (US): /ˈɡaɡrə/ /ˈɡɑːɡrɑː/

Eng (UK): /ˈlɛŋɡə/
Eng (US): /ˈlɛŋɡə/

Advantages/Benefits
Its advantages are:

sensual
practical because prestitched
silhouette enhancing
various styles available

Its advantages are:

Comfortable
Easy to wear
Various styles

Example in Sentence

I am looking for a ghagra choli.
She wore ghagra for her friend's wedding.

I bought my lehenga from a boutique.
My sister's wedding lehenga cost about Rs 15000.