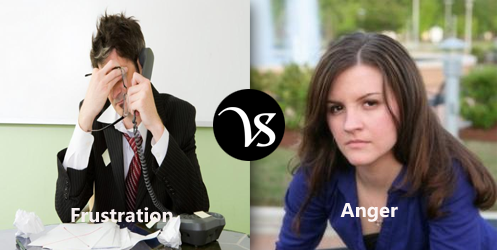 Frustration:
Frustration is the feeling of hopelessness, sadness, discouraged and disappointed when the one is not able to fulfill his desires. It may be due internal and external factors. External factors may include difficult task, unavoidable situation etc. Internal factors may be one fails to fulfill the personal goals due to lack of self-confidence.
Anger:
Anger is an emotion which occurs when one is wronged, offended or denied. It may be of two types such as: active anger and passive anger. It may be shown by the face or activities.
Differences:
Basis
Frustration
Anger
Definition
(www.oxforddictionaries.com)
The feeling of being upset or annoyed as a result of being unable to change or achieve something
A strong feeling of annoyance, displeasure, or hostility
Synonyms
Dissatisfaction, bafflement, impediment, disappointment, hindrance
Infuriate, incense, passion, indignation, exasperate
Antonyms
Assistance, composure, gladness, support and aid
Calmness, content, gratification, assuage, peace
Types
Its types are:

Environmental Frustration
Personal Frustration
Conflicting Frustration
Motivational conflict

Its types are:

Passive aggressive anger
Paranoid anger
Sudden anger
Shame based anger
Planned anger
Additive anger
Habitual anger
Moral anger

Word origin
The word frustration was originated from Mid-16th century: from Latin frustratio(n-), from frustrare 'disappoint'.
The word anger was originated from Middle English: from Old Norse angr 'grief', angra 'vex'. The original use was in the Old Norse senses; current senses date from late Middle English.
Pronunciation

Eng (UK): /frʌˈstreɪʃn/
Eng (US): /frəˈstrāSH(ə)n/

Eng (UK): /ˈaŋɡə/
Eng (US): /ˈaNGɡər/

Response
Frustration is usually a slow and steady response.
Anger is usually a quick and aggressive response.
Identification
Frustration is difficult to be detected in a person's body language and can be easily hidden.
Anger is most of the time visible and identifiable.
Example in Sentence

I can read the frustration in her voice.
I am so sorry that I took out all the frustration and anger on you.

I could see the anger on his face.
Meera could not control her anger.