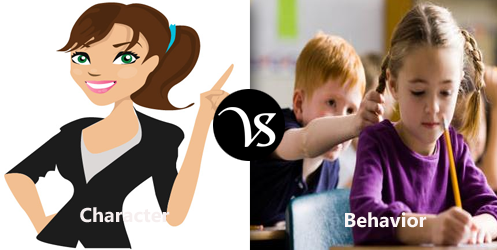 Character:
Character is a quality of a person which makes the one different from others. It defines the person from inside. It is also the image of one in others mind. Each and every person has a different character.
Behavior:
Behavior means how the one behaves to the others. It is possible to change one's behavior. It is the reaction to others.
Differences:
Basis
Character
Behavior
Definition
(www.oxforddictionaries.com)
The mental and moral qualities distinctive to an individual
The way in which one acts or conducts oneself, especially towards others
Synonyms
Spirit, description, role, temper, disposition
Manners, attitude, carriage, operation, deportment
Antonyms
Depravity, abrupt, acidulous, brute, disgrace
Abeyance, sloth, deter, immobility, departure
Word origin
The word character was originated from Middle English: from Old French caractere, via Latin from Greek kharaktēr 'a stamping tool'. From the early sense 'distinctive mark' arose 'token, feature, or trait' (early 16th century), and from this 'a description, especially of a person's qualities', giving rise to 'distinguishing qualities'.
The word behavior was originated from Late Middle English: from behave, on the pattern of demeanour, and influenced by obsolete haviour from have.
Pronunciation

Eng (UK): /ˈkarəktə/
Eng (US): /ˈkerəktər/

Eng (UK): /bɪˈheɪvjə/
Eng (US): /bəˈhāvyər/

Advantages/Benefits
Its advantages are:

Respect
Esteem and virtues
Trust
Maintains successes
Motivates achievement
Build relationship

Its advantages are:

Improve performance
Less stress
Job security
Control

Example in Sentence

A woman must have a good character.
You are such a strange character.

I am so surprised by your behavior.
You must be ashamed of your behavior.