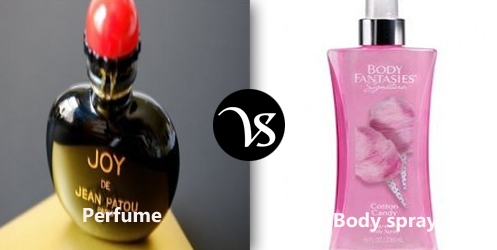 Perfume:
Perfume is a liquid which is made up of oils and gives a good smell. It lasts for a long time. It is applied on the cloth. It has a strong fragrance.
Body spray:
Body spray is the body freshener which is used to combat body odor. It is lighter and stays for the short time than the perfume.
Differences:
Basis
Perfume
Body spray
Definition
(www.oxforddictionaries.com)
A fragrant liquid typically made from essential oils extracted from flowers and spices, used to give a pleasant smell to one's body
A lightly perfumed spray for the body; a deodorant in aerosol form; also as a mass noun.
Objectives/Purpose
The purpose of perfume is to add fragrance to the attire or costumes.
The purpose of using body spray is to spray the scent all over the body.
Synonyms
Fragrance, scent, odour, cologne, musk, whiff
After shave, cologne, fragrance
Word origin
The word perfume was originated from Mid-16th century (originally denoting pleasant-smelling smoke from a burning substance, especially one used in fumigation): from French parfum (noun), parfumer (verb), from obsolete Italian parfumare, literally 'to smoke through'.
The word body spray was originated from 1920s; earliest use found in The Fresno Bee.
Contains
Perfume has a high amount of aromatic oils and extracts.
Body spray has the least amount of extracts and aromatic oils.
Pronunciation

Eng (UK): /ˈpəːfjuːm/
Eng (US): /ˈpərˌfyo͞om/ /ˌpərˈfyo͞om/

Eng (UK): /ˈbɒdi/ /spreɪ/
Eng (US): /ˈbädē/ /sprā/

Advantages/Benefits
Its advantages are:

Smell good
Confidence booster
Mood enhancer
Increase attraction
Improve health

Its advantages are:

Hydration
Comfortable smells
Less expensive
Pleasant feeling

Disadvantages
Its demerits are:

Difficult to select
Expensive

Its demerits are:

Itching
Skin diseases
Breathing problems
Lung diseases

Example in Sentence

I don't wear a cheap perfume.
I don't like the smell of your perfume.

The body spray is cheaper in price.
You can use body spray if you can't afford perfume.