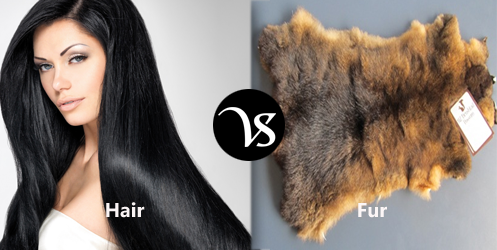 Hair:
Hair is the protein filament that grows from the skin of humans. Hair grows longer and is composed of only a single layer. Hair can be classified into: primary and secondary.
Fur:
Fur is the hair which is grown on the skin of mammals. Fur is mostly for warmth and body protection. It includes the double composition.
Differences:
Basis
Hair
Fur
Definition
(www.oxforddictionaries.com)
Any of the fine thread-like strands growing from the skin of humans, mammals and some other animals.
The short, fine soft hair of certain animals.
Objectives/Purpose
The purpose of hair are:

To keep warm
Protect them from cuts and scrapes
Provides camouflage

The purpose of fur is:

to provide insulation and warmth

Synonyms
Eyebrow, hairstyle, fiber, wool and grass
Skin, jacket, coat, pelt and wool
Pronunciation
Eng (UK): /hɛː/
Eng (US): /her/
Eng (UK): /fəː/
Eng (US): /fər/
Types
The types of hair are:

Straight hair
Curly hair
Kinky hair
Wavy hair
Coily hair

The types of fur are:

Beaver
Faux
Fisher
Fox
Golden jackal
Marten
Mink
Nutria
Otter
Rabbit
Raccoon
Sable
Skunk
Grey wolf
Australian brush tail possum

History
It was firstly originated before 12th century.
It was firstly originated in the 14th century.
Word origin
The word hair was originated from Middle English.
The word fur was originated from Middle English furren.
Growth pattern
It tends to grow independently and does not stop growing.
It tends to grow in more synchronized manner and stops at a certain length.
Composition
It includes single composition or texture.
It includes double composition.
Nature
It is soft and long.
It is coarse and short.
Usage
Human hair is used in making wigs and hair extensions.
Animal fur is used in making fashion clothes, minks, yarn for knitting, brooms, among other things.
Main function
The main function of hair is:

warmth
protection
touch sense
eyebrows and eyelashes

Advantages/Benefits
The benefits of hair are:

To protect the scalp from the sun and cold.

Fur is warm and nice.
Example in Sentence

She had a very long and thick hair.
She straightened her hair last month.

She bought a fur coat yesterday.
Mariah removed her fur coat.