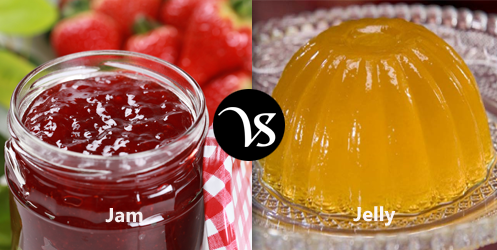 Jam:
Jam is a fruit preserve which is made from crushing fruits and boiling it adding sugar. It is available in various fruit flavors. The texture of jam is thick and rough. It is mostly used as a spread in breads.
Jelly:
Jelly is a soft food made by boiling fruit juice and sugar. It is found in various tastes, flavors and choices. It has smooth texture. It is elastic or gel in consistency. It is served cold as a dessert.
Differences:
Basis
Jam
Jelly
Definition
Preserve, jelly, conserve (www.collinsdictionary.com)
A fruit-flavoured dessert made by warming and then cooling a liquid containing gelatin or a similar setting agent in a mould or dish so that it sets into a semi-solid, somewhat elastic mass
(www.oxforddictionaries.com)
Synonyms
Squeeze, pack, cram, squeeze, ram
Preserve, coagulate, conserve, gluten, gel
Antonyms
Unpack, abandoned, clear, aimless, actuate
Liquefy, thaw, melt off, deliquesce, fuse, flux
History
The earliest cookbook, called Of Culinary Matters, which dates back to 1st century Rome, contained recipes for making jam. It was part of the diet in the countries of the Middle East where there was an abundance of sugar that grew naturally.
Jelly has been eaten since Egyptian times. It is mentioned in early Anglo-Saxon recipe books.
Word origin
The word jam was originated from Early 18th century: probably symbolic; compare with and cram.
The word jelly was originated from Late Middle English: from Old French gelee 'frost, jelly', from Latin gelata 'frozen', from gelare 'freeze', from gelu 'frost'.
Physical form
Jam is thick, paste form that has fruit chunks in it.
Jelly has a clear or translucent form, which is held together. It jiggles when shaken.
Texture
Lumpy
Smooth
Usage
Spread, topping for desserts
Dessert, spread
Pronunciation

Eng (UK): /dʒam/
Eng (US): /jam/

Eng (UK): /ˈdʒɛli/
Eng (US): /ˈjelē/

Advantages/Benefits
Its advantages are:

It boosts energy. The sugars are perfect for snacking or adding to breakfast items for a quick oomph.
It has half the calories of butter as a topper, and is low in cholesterol.
It still has all the benefits of fruit, most notably, heart healthy, cancer fighting antioxidant power. It aids is maintaining healthy blood pressure, and when you make it yourself, it's a concentrated wallop of nutrition.
It tastes amazing. Sweet and savory, and full of whole fruit pieces, jams and jellies are like candy without the empty calories.
It's and ideal way to preserve the tastes of the season when the berries start flowing, for days later or months later.
If you are picking the fruit yourself to turn into jam, you can capture it when it's fully ripe for the best nutritional value.

Its advantages are:

It is good for the skin.
It is good to maintain weight.
It helps to boost immunity.
It maintains hair health.
It relieves stress.
It maintains good cholesterol.

Disadvantages
Its disadvantages are:

Nutrition loss
Loss of colour
Texture loss
Loss of flavor

Its disadvantages are:
Example in Sentence

She made a jam from mangoes.
She spread some Apricot jam on her toast.

I will have jelly in a dessert.
I could not find jelly in a kitchen.