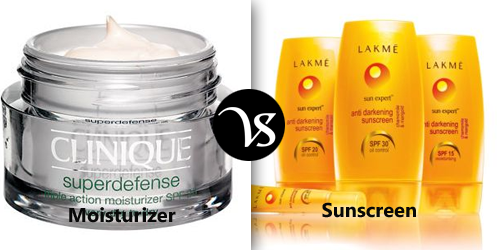 Moisturizer:
Moisturizer is the liquid which is used to moisturize the skin by increasing the water content. The various types of moisturizer can be found for the various skin types.
Sunscreen:
Sunscreen is the lotion which protects the skin from sun's ultraviolet rays. Minimum SPF sunscreen 15 is required for the best protection.
Differences:
Basis
Moisturizer
Sunscreen
Definition (www.oxforddictionaries.com)
A cosmetic preparation used to prevent dryness in the skin
A cream or lotion rubbed on to the skin to protect it from the sun
Objectives/Purpose
The main purpose of a facial moisturizer is to hydrate the skin, and to reinforce the natural skin barrier.
The main purpose of sunscreen is to absorb or reflects some of the sun's ultraviolet (UV) radiation and thus helps protect against sunburn.
Synonyms
Cream, emollient,
Sunblock, lanolin, suntan lotion, salve, ointment
Types
Its types are:

Humectants
Emollients
Ceramides
Occulsives

Its types are:

Gel sunscreen
Cream sunscreen
Sunscreen lotions
Sunscreen wipe
Spray sunscreen
Colored sunscreen
Powder sunscreen

Word origin
The word moisturizer was originated in 1955-60.
The word sunscreen was originated from 1730-40.
Also known as
Emollients
Sunblock, sun screen, suntan lotion, sunburn cream, sun cream or block out
Protects skin
They help the skin from dryness and oiliness.
They protect the skin from harmful Ultraviolet rays.
Preferred at times
Usually preferred at any season and in dry climate.
Usually preferred in summers or hot climate.
Are in the form of
Moisturizer products are sold in the form of soft white creams, which are generally thinner than the normal creams.
Sunscreen products are sold as lotions, creams, gels, oils, sprays, sticks, and lip balms, and can be bought without a physician's prescription.
Pronunciation

Eng (UK): /ˈmɔɪstʃərʌɪzə/
Eng (US): /ˈmoisCHəˌrīzər/

Eng (UK): /ˈsʌnskriːn/
Eng (US): /ˈsənˌskrēn/

Functions and protections

Preservation of normal skin
Dry skin
Oily skin
Aging skin
Sensitive skin
Eczema

Protection from the harmful UVA and UVB (Ultra violate radiations) of the sun.
Advantages/Benefits
Its advantages are:

Treat try skin and conditions like eczema
Helps hold water in the skin's outer layers
Retain moisture

Its advantages are:

Skin cancer prevention
Premature aging prevention
Sunburn prevention

Disadvantages
Its disadvantages are:

Skin becomes dependent for moisture
Lead to clogged pores, breakouts, and dull skin

Its disadvantages are:

Blocks vitamin D
Chemicals
Leaves awful white streaks on your skin

Example in Sentence

I always use moisturizer after washing my face.
I use different moisturizer for body.

I never forget to put sunscreen before going outside.
He doesn't use sunscreen.