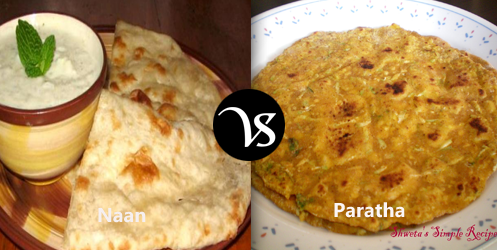 Naan:
Naan is the leavened flat bread which is made from the white flour. It is an ideal source of energy. Milk or yogurt is added to naan for the volume and thickness. It is baked in a stone oven or tava. It is triangular in shape.
Paratha:
Paratha is the flat bread which is made from the whole wheat flour. It is fried in the pan. It takes much time to prepare. It is quite popular in North India.
Differences:
Basis
Naan
Paratha
Definition
(www.oxforddictionaries.com)
(In Indian cookery) a type of leavened bread, typically of teardrop shape and traditionally cooked in a clay oven
(In Indian cookery) a flat, thick piece of unleavened bread fried on a griddle.
Types
Its types are:

Keema naan
Peshawari naan
Kashmiri naan
Roghani naan
Amritsari naan

Its types are:

Aloo paratha
Matar paratha
Methi paratha
Mix vegetable paratha
Gobi paratha
Coconut paratha
Kerala paratha
Laccha paratha
Cheese/ Paneer paratha
Dry fruit paratha
Sattu paratha
Mooli paratha
Baby corn masala paratha
Mushroom paratha
Spring onion paratha
Palak paratha
Papad paratha
Lasooni paratha
Moong paratha
Pav Bhaji paratha
Pizza paratha
Shahi paratha
Gur paratha
Onion paratha
Papaya paratha

History
The first recorded history of Naan can be found in South Asia.
It originated in Pakistan as a shallow fried version of puri and then gradually became well known in the neighboring country, India.
Word origin
The word naan was originated from Urdu and Persian nān.
The word paratha was originated from Hindi parāṭhā.
Alternative names
Tandoori naan
Parantha, Parauntha, Palata, Farata
Pronunciation

Eng (UK): /nɑːn/
Eng (US): /nän/

Eng (UK): /pəˈrɑːtə/
Eng (US): /pəˈrädə/

Bake
Naan is baked on a stone oven or a tava.
Paratha requires a cooking oil when we bake them.
Made of
Naan is made from white flour with salt, a yeast culture, and enough yogurt
Paratha is made from the whole wheat flour with fillings using potato, cheese spices, raddish, fenugreek etc.
Advantages/Benefits
Its advantages are:

Vitamins and minerals
Macronutrient content

Its advantages are:
Example in Sentence

I ordered a naan with chutney.
Naan is served in several restaurants.

Today I ate paratha in a breakfast.
I will take a paratha with lassi.