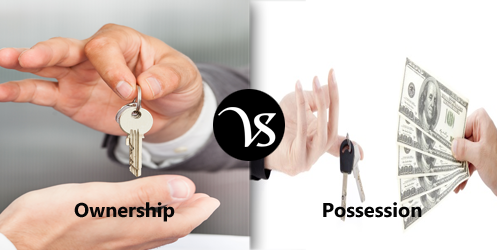 Ownership:
Ownership is to determine who has certain rights and duties over the property. One can lose the ownership by selling, exchanging or providing as a gift. Ownership is self-propagating in that the owner of any property will also own the economic benefits of that property.
Possession:
Possession is the control that a person intentionally exercises towards a thing. Possession is one of the important concepts in property law. There are three related and overlapping but not identical legal concepts: possession, right of possession and ownership.
Differences:
Basis
Ownership
Possession
Definition
(www.oxforddictionaries.com)
The act, state, or right of possessing something.
The state of having, owning, or controlling something.
Synonyms
Partnership, purchase, takeover, control, holding
Dominion, occupancy, retention, custody, tenancy
Antonyms
Renting, whole and lease
Want, lack and need
Types
Its types are:

Private Limited Company
Public Limited Company
Unlimited Liability
Limited Liability Company

Its types are:

Actual possession (also called 'constructive' possession)
An immediate right to possession
A future or reversionary right to possession

Word origin
It was originated in between 1575-85; owner + -ship.
It was originated in between 1300-50; Middle English < Latin possessiōn- (stem of possessiō) occupancy, act of occupying, equivalent to possess (us), past participle of possidēre to have in one's control, occupy.
Signify
Ownership signifies permanence.
Possession is mostly temporary.
Mean
Ownership means the name in the title deed.
Actual possession means physical control of a thing.
Guarantee
Ownership is guarantee of the law.
Possession is guarantee of the facts.
Requires
Ownership does not require possession.
Power and intention to control a thing is important in the concept of possession.
Pronunciation

Eng (UK): /ˈəʊnəʃɪp/
Eng (US): /ˈōnərˌSHip/

Eng (UK): /pəˈzɛʃ(ə)n/
Eng (US): /pəˈzeSHən/

Example in Sentence

He gave up the ownership of his land.
They disputed for the ownership of the land for many years.

She obtained the possession of the whole business.
My father will take the possession of the house today.