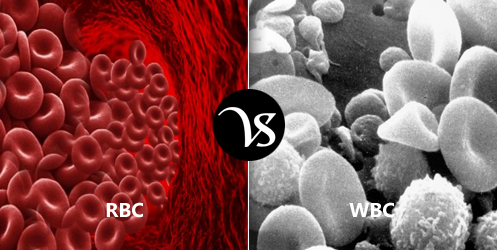 RBC:
Red Blood Cells (RBC) are also called erythrocytes which help to deliver oxygen to the body tissues and blood flow through the circulatory system. RBCs take oxygen in the lungs or gills and release it into tissues whole squeezing through the body capillaries. RBC contains hemoglobin. These are small and biconcave in shape.
WBC:
White Blood Cells (WBCs) also called leukocytes are important part of the immune system which helps to fight the infections against bacteria, virus and germs in the body. They are colorless. WBC originates in the bone marrow. If the number of WBC is low then it is called leukopenia. They are very less in comparison to the RBC. WBC does not have shape so, these are shapeless. These increase the immunity power.
Differences:
Basis
RBC
WBC
Definition (www.merriamwebster.com)
a red-colored blood cell that carries oxygen from the lungs to other parts of the body
a clear or colorless cell in the blood that protects the body from disease
Synonyms
Erythrocyte, hemocyte, red cell and red corpuscle
White cell, white corpuscle, leukocyte, white blood corpuscle
Life span
Its life span is 120 days.
Its life span is 4-30 days depending on the body.
Types
There is only one type of RBCs found in the blood.
There are five major types of white blood cells:

neutrophils
lymphocytes
eosinophils
monocytes
basophils

History
The first person to describe red blood cells was the young Dutch biologist Jan Swammerdam, who had used an early microscope in 1658 to study the blood of a frog. In 1901, Karl Landsteiner published his discovery of the three main blood groups—A, B, and C (which he later renamed to O).
Since 1870, when hematology was first established as a branch of scientific medicine by the discovery of cells in the blood stream, the polemics of the problem concerning these circulating units have centered about their origin.
Word origin
It was originated in 1910.
It was originated in 1869.
Circulatory system
The circulatory system is Cardiovascular system.
The circulatory system is Cardiovascular and lymphatic system.
Presence in blood
It makes up 36-50% of our blood depending on sex, height and weight.
It is close to 1 % of the blood.
Components
Its components are Hemoglobin.
Antibodies with MHC antigen cell markers.
Movement
They move in blood cells eventually squeezing through capillaries giving O2 and nutrients to body cells.
They leave the blood vessels and move to injury site. Capable of diapedesis-squeeze between cells of cells of blood vessel walls to exit circulation
Nuclei
RBC does not have nuclei in humans.
WBC has nuclei in humans.
Results
The decrease in RBC leads to cause anaemia.
If the number of WBC is low then it is called leukopenia.
Pronunciation

Eng (UK): /rɛd/ /blʌd/ /sɛl/
Eng (US): /red/ /bləd/ /sel/

Eng (UK): /wʌɪt/ /blʌd/ /sɛl/
Eng (US): /(h)wīt/ /bləd/ /sel/

Main function
The main function of RBC is It supplies oxygen to different parts of the body and carries carbon dioxide and other waste products.
The main function of WBC is to provide a defending It produces antibodies to develop against infections.
Formation
It is produced in a bone marrow.
It is produced in lymph nodes, spleen etc.
Shape
It is Biconcave disc in shape.
It has different kinds of shapes and don't change shape when multiplied.
Color
They possess hemoglobin and are red.
They are colorless as they have no pigment.
Advantages/Benefits
Its advantages are:

The functioning of RBC circulates the oxygen throughout the body.
Function in blood grouping.
Erythrocytes also play a role in immune system.
It also releases erythrocyte S-nitrosothiol compounds while deoxygenated hemoglobin, which also serves to dilate the blood vessels and blood flow in order to expedite the blood to the area of the body, is starved of oxygen.

Its advantages are:

They help body against various infectious diseasesas part of the immune system.
They work independently as a single cell organism.
Leukocytes are able to move freely and interact and capture cellular debris, foreign particles or microorganism's intruders.

Process of formation
The process of formation of RBC is known as erythropoiesis.
The process of formation of WBC is known as leucopoiesis.
Example in Sentence

Red blood cells live for 42 days.
Red blood cells look like little disks.

White blood cells are used to fight off diseases.
In her body, the presence of white blood cells is less in number.