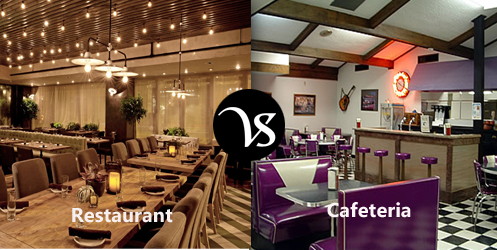 Restaurant:
Restaurant is a public place which serves food and drinks in exchange for money to the customers. It offers a seating arrangement. It provides more emphasis on service. It offers a wide menu along with the prices. The food is usually prepared after it is ordered from the menu.
Cafeteria:
A cafeteria is a place where foods and drinks are served in exchange of monetary value. It may or may not provide seating arrangements. Cafeteria doesn't serve the alcoholic beverages.
Differences:
Basis
Restaurant
Cafeteria
Definition
(www.oxforddictionaries.com)
A place where people pay to sit and eat meals that are cooked and served on the premises.
A restaurant in which customers serve themselves from a counter and pay before eating.
Synonyms
Buffet, diner, eating place, tavern, cabaret
Canteen, refectory, snack bar, dining room, snack bar
Types
Its types are:

Ethnic
Fast food
Fast casual
Casual dining
Family style
Fine dining

Its types are:

Bar mleczny
Britling Cafeterias
Clifton's Cafeteria
Dubrow's Cafeteria
Forum Cafeterias
K&W Cafeterias
Laughner's Cafeteria
Luby's
Manning's Cafeterias
MCL Cafeterias
Morrison's Cafeteria
Mr. Fables
Piccadilly Restaurants
Raymond's Bar-B-Que Cafeteria
Sholl's Colonial Cafeteria
Yesterdog

History
In Ancient Greece and Ancient Rome, thermopolia (singular thermopolium) were small restaurant-bars that offered food and drinks to customers. A typical thermopolium had little L-shaped counters in which large storage vessels were sunk, which would contain either hot or cold food. Their popularity was linked to the lack of kitchens in many dwellings and the ease with which people could purchase prepared foods.
Perhaps the first self-service restaurant (not necessarily considered a cafeteria) in the United States was the Exchange Buffet in New York City, opened September 4, 1885, which catered to an exclusively male clientele. Food was purchased at a counter, and patrons ate standing up.
Word origin
The word restaurant was originated from Early 19th century: from French, from restaurer 'provide food for' (literally 'restore to a former state').
The word cafeteria was originated from Mid 19th century (originally US): from Latin American Spanish cafetería 'coffee shop'.
Pronunciation

Eng (UK): /ˈrɛst(ə)rɒnt/ /ˈrɛst(ə)r(ə)nt/ /ˈrɛst(ə)rɒ̃/
Eng (US): /ˈrest(ə)rənt/ /ˈrest(ə)ˌränt/

Eng (UK): /kafɪˈtɪərɪə/
Eng (US): /kafɪˈtɪərɪə/

Advantages/Benefits
Its advantages are:

easy
taste good
quickly prepared
wide choices
you don't have to cook it, they bring it out to you
they supply drinks
they probably cook better than you
can be cheap
nice environment

Its advantages are:

Able to eat in a controlled environment
More jobs

Disadvantages
Its disadvantages are:

can be expensive
could get a rude waiter
could be waiting a long time for food
may not have what you want
may not have seating arrangements for you
could be busy
might be loud
you don't know what they are putting in your food
you don't know who is making your food

Its disadvantages are:
Example in Sentence

We went to a Thai restaurant last time.
Let's go to a fine restaurant to celebrate our victory.

I left my cell phone in a cafeteria.
I don't like the food of that cafeteria.