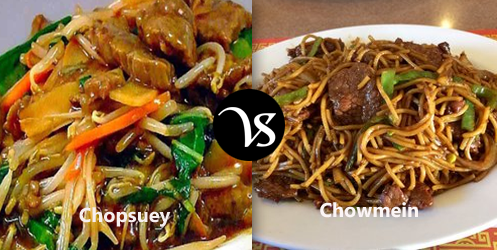 Chopsuey:
Chopsuey is an American Chinese cuisine dish which is stired fried with the meat, vegetables, and eggs in a starch thickened sauce. It can be served with rice.
Chowmein:
Chowmein is the stir fried noodles with meat, seafood and vegetables. It can be either steamed or fried. The noodles are made with wheat flour, egg, and water which are crispy when fried.
Differences:
Basis
Chopsuey
Chowmein
Definition
(www.oxforddictionaries.com)
A Chinese-style dish of meat stewed and fried with bean sprouts, bamboo shoots, and onions, and served with rice.
A Chinese-style dish of fried noodles with shredded meat or seafood and vegetables.
History
Chop suey is thought to have originated not in China, but in California during the 1800s. At this time there was a great influx of Chinese immigrants to cities like San Francisco, driven in large part by a gold rush that began towards the end of the 1840s.
The word means fried noodles, chow meaning fried and mein meaning noodles. It is Mandarin Chinese. The pronunciation chow mein comes from the Taishan dialect of Chinese, spoken by immigrants from Taishan to America.
Word origin
The word chopsuey was originated in Late 19th century: from Chinese (Cantonese dialect) tsaâp suì 'mixed bits'.
The word chowmein was originated from Late 19th century: from Chinese chǎo miàn 'stir-fried noodles'.
Pronunciation

Eng (UK): /tʃɒpˈsuːi/
Eng (US): /ˌCHäp ˈso͞oē/

Eng (UK): /tʃaʊ ˈmeɪn/
Eng (US): /ˌCHäp ˈso͞oē/

Advantages/Benefits
Its advantages are:
Its advantages are:
Disadvantages
Its disadvantages are:
Its disadvantages are:

Rich in bad carbohydrates

Example in Sentence

I will have American chopsuey.
The chopsuey is not ready yet.

My mother makes a very tasty chowmein.
We have ordered two plates of chowmein.