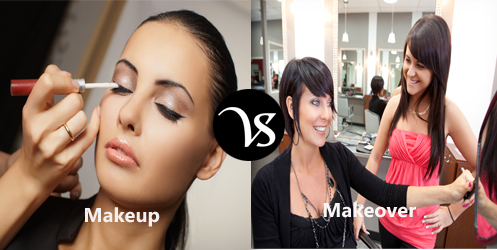 Makeup:
Makeup is a product which is applied in one's face to enhance the appearance of a person. Eyeliner, eye shadow, lipstick or lip gloss, foundation, concealer, blush are the most common types of makeup. It refers to the cosmetic items. It helps to enhance the facial features.
Makeover:
Makeover is the way of changing one's appearance by cosmetics and hair styling. It may also include clothes, shoes, hair etc. It helps to change the personality of a person.
Differences:
Basis
Makeup
Makeover
Definition
(www.oxforddictionaries.com)
Cosmetics such as lipstick or powder applied to the face, used to enhance or alter the appearance
A complete transformation of the appearance of someone or something
Synonyms
Composition, shape, formation, arrangement, build, cosmetics
Betterment, development, evolution, change, conversion
Word origin
The word make up was originated in between 1805-15.
The word make over was originated from also make-over, by 1981, from phrase make over in sense "to refashion" (1690s); from make + over.
Pronunciation

Eng (UK): /meɪk/ /ʌp/
Eng (US): /māk/ /əp/

Eng (UK): /ˈmeɪkəʊvə/
Eng (US): /ˈmākˌōvər/

Advantages/Benefits
Its advantages are:

Enhances look
Hides blemishes and scars
Can change appearance of age
Looking more professional

Its advantages are:

Change the whole appearance
Attention
Confidence

Disadvantages
Its drawbacks are:

Can irritate the skin
Chemicals
Takes away the natural look
Becomes a habit
Time consuming
Not easy to remove
Make skin damaged
Spend more

Its disadvantages are:
Example in Sentence

She wears a very heavy makeup.
When Rita does a makeup she looks beautiful.

The beautician gave her a makeover.
I wanted to give my mom a makeover.