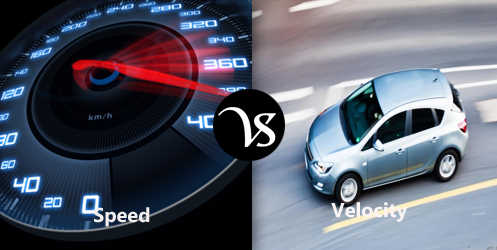 Speed:
Speed is the time taken to travel the distance. Speed is calculated by: Speed= distance/time. It has only magnitude but no direction so it is a scalar quantity.
Velocity:
Vector is the displacement travelled by an object in a time. It is called vector quantity as it has both magnitude and direction. Velocity is measured by: Velocity = Displacement/time.
Differences:
Basis
Speed
Velocity
Definition
(www.oxforddictionaries.com)
The rate at which someone or something moves or operates or is able to move or operate
The speed of something in a given direction
Synonyms
Celerity, alacrity, tear, run, quicken
Rapidity, rush, momentum, clip, fleetness, quickness
Antonyms
Delay, slow, deliberation, halt, hesitate
Awkwardness, deliberateness, dilatoriness, ineptness, dally
Types
Its types are:

Average speed
Instantaneous speed

Word origin
The word origin speed was originated from Old English spēd (noun), spēdan (verb), from the Germanic base of Old English spōwan 'prosper, succeed', a sense reflected in early usage.
The word velocity was originated from Late Middle English: from French vélocité or Latin velocitas, from velox, veloc- 'swift'.
Types of quantity
It is a scalar quantity.
It is a vector quantity.
Change of Direction
The object can change direction and the average speed will continue to count.
The object must follow one direction, if the direction of an object changes so do the velocity.
Pronunciation

Eng (UK): /spiːd/
Eng (US): /spēd/

Eng (UK): /vɪˈlɒsɪti/
Eng (US): /vəˈläsədē/

Example in Sentence

He increased his speed of doing work.
I am driving my car at full speed.

The velocity of the car is being slow.
The velocity of the car is 70 miles per hour.