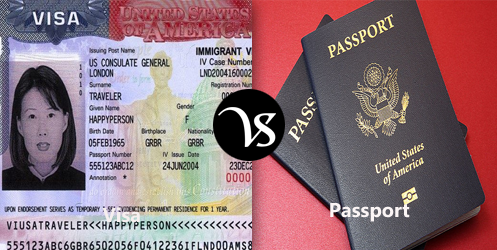 Visa:
A visa is permission granted official by an embassy or government to stay or visit another country. It limits the duration of applicant's stay. It is a document in the form of stamp endorsed on an applicant's passport.
Passport:
Passport is the document issued by the national government which certifies the identity and nationality of the passport owner. It includes name, sex, and date of birth and place of birth. The passport is required to enter the country as well as return the country.
Differences:
Basis
Visa
Passport
Definition
(www.oxforddictionaries.com)
An endorsement on a passport indicating that the holder is allowed to enter, leave, or stay for a specified period of time in a country.
An official document issued by a government, certifying the holder's identity and citizenship and entitling them to travel under its protection to and from foreign countries.
Synonyms
Permit, permission, authorization, indorse, accept, approve
Pass, key, ticket, offer, identification, head
Types
Its types are:

Tourist visa
Transit visa
Business visa
Temporary worker visa
Student visa
Fiancé visa

Its types are:

Ordinary passport
Official passport
Temporary passport
Diplomatic passport
Family passport
Fantasy passport

Word origin
The word visa was originated in Mid-19th century: via French from Latin visa, past participle (neuter plural) of videre 'to see'.
The word passport was originated in Late 15th century (denoting authorization to depart from a port): from French passeport, from passer 'to pass' + port 'seaport'.
Pronunciation

Eng (UK): /ˈviːzə/
Eng (US): /ˈvēzə/

Eng (UK): /ˈpɑːspɔːt/
Eng (US): /ˈpasˌpôrt/

Example in Sentence

I applied for a visa.
My visa expired yesterday.

I need to renew my passport.
I forgot my passport at home.