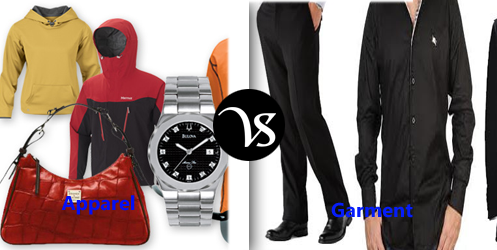 Apparel:
Apparel is clothing especially outwear or garments.
Garment:
Garment is any article of clothing.
Differences:
Basis
Apparel
Garment
Definition (www.oxforddictionaries.com)
Clothing
An item of clothing
Synonyms
Equipment, gear, dress and garment
Robe, dress, apparel and costume
Pronunciation

Eng (UK): /əˈpar(ə)l/
Eng (US): /əˈperəl/

Eng (UK): /ˈɡɑːm(ə)nt/
Eng (US): /ˈɡärmənt/

Word origin
The word apparel was originated from the Middle English, from Old French apareillier.
The word garment was originated in Middle English: from Old French garnement 'equipment'.
Example in Sentence

He is wearing apparel.
I wore apparel at the time of Christmas Eve.

It was the exact garment which Mr. Joseph explained.
The length of the garment is small.