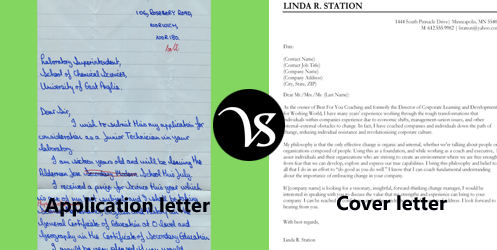 Application letter:
An application letter is a formally written one-page letter that accompanies a resume and other documentation in application for a job or academic program. An application letter should also take time to highlight the qualifications that prepare the writer for acceptance into the job or academic program.
Cover letter:
A cover letter, covering letter, motivation letter, motivational letter or a letter of motivation is a letter of introduction attached to, or any accompanying another document such as resume or curriculum vitae. Job letters frequently send a cover letter along with curriculum vitae or application for employment as a way of introducing themselves to potential employers and explaining their suitability for the desired position.
Differences:
Basis
Application letter
Cover letter
Definition (www.oxforddictionaries.com)
A letter submitted in support of an application for something, especially a job.
A letter sent with, and explaining the contents of, another document or a parcel of goods
Objectives/Purpose
Its purpose are:

express your interest in attending an institution or
receiving a position
showcases your abilities and strengths, and
illustrates your experience
to say your intent to apply for a certain job or
college

The purpose of the
cover letter are:

to introduce yourself to an organization,
demonstrate your interest in the company or a specific vacancy,
draw attention to your resume and motivate the reader to interview you

Apply for
Application is to apply for the vacant position.
Cover letter is to ask if there is the position available.
Advantages/Benefits
The main advantage is :
the cover letter lets the recipient know exactly what they have received, and from whom it came
Disadvantages
The disadvantages of cover letter are:
generic

communication skills
superfluous information

Example in Sentence

He wrote an application letter to apply for a vacant post.
He attached a bio data along with the application letter.

A cover letter includes all the information about the applier.
A cover letter should be effectively prepared.