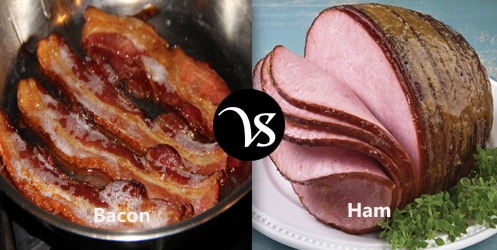 Bacon:
The meat product which is prepared from a pig is called bacon. It is prepared from the fatback or pork belly. It may be smoked, boiled, fried, baked, and grilled. The meat is cured and smoked in order to preserve it.
Ham:
Ham is a hind leg of swine which is preserved from salting, smoking or wet curing. It is dry cured or wet cured.
Differences:
Basis
Bacon
Ham
Definition
(www.oxforddictionaries.com)
Cured meat from the back or sides of a pig
Salted or smoked meat from the upper part of a pig's leg
Synonyms
Pork, chop, pig, cutlet, gammon, ribs
Jambon, hammy, pork, camp,
Antonyms
Vegan
Underplay, underact
Types
Its types are:

Turkey bacon
Jowl bacon
Canadian bacon
Speck
Pancetta
Beef bacon
Irish bacon
Pork belly
American bacon

Its types are:

Fresh ham
Cured ham
Cured and smoked ham

Word origin
The word bacon was originated from Middle English: from Old French, from a Germanic word meaning 'ham, flitch'; related to back.
The word ham was originated from Old English ham, hom (originally denoting the back of the knee), from a Germanic base meaning 'be crooked'. In the late 15th century the term came to denote the back of the thigh, hence the thigh or hock of an animal.
Preparation
Cured in brine or in a dry packing containing large amounts of salt, smoked, boiled or dried in cold air.
Can be cooked and served fresh; wet or dry cured usually with honey or sugar.
Cut of the meat
Bacon is the meat from a pig that has been cured and comes from the sides of the animal or its back. In US, they use the pork belly to make bacon too.
Ham comes from the bend of the knee or the upper part of the thigh or the buttock of the animal.
Preparation
Bacon is cured and almost always smoked.
Ham is dry cured or wet cured.
Eating
Bacon is eaten fried, smoked, boiled or grilled.
Ham is normally eaten as slices.
Taste
Bacon has a crispy taste.
Ham is moister than bacon.
Shape
Bacon comes as thin slices.
Ham is also used as thin slices.
Pronunciation

Eng (UK): /ˈbeɪk(ə)n/
Eng (US): /ˈbākən/

Eng (UK): /ham/
Eng (US): /ham/

Advantages/Benefits
Its advantages are:

It stops food cravings.
Bacon raises high-density lipoprotein cholesterol.
It's low in carbs.
It contains a significant amount of protein — and high-quality protein at that.
Bacon is a great source of selenium.
It's chock-full of phosphorus.
It's a potent packer of the B vitamin Niacin.
It contains choline.
It's versatile.
It is delicious.

Its advantages are:

Sodium Nitrate
High Protein content
Vitamin and mineral content
Fat

Disadvantages
Its disadvantages are:

Saturated fat
Sodium
Nitrites and Nitrates

Its disadvantages are:

High sodium content
Risk of diabetes, cancer

Example in Sentence

He prefers to eat bacon in the meal.
She made tasty bacon.

He wanted a slice of ham.
We ate ham in a restaurant.