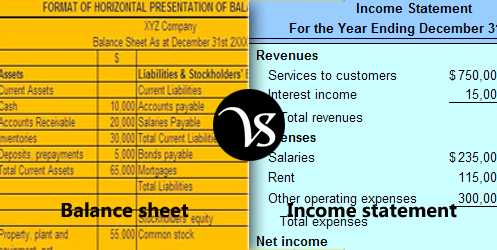 Balance sheet:
A balance sheet is a financial statement of accounts which shows the financial position of the business and is prepared at the end of the year. The major components of balance sheet are: assets, liabilities and owner's equity.
Income statement:
Income statement is also known as profit or loss account is the report of income, expenses and the profit or loss during the accounting period. The period of time that the statement covers is chosen by the business and will vary.
Differences:
Basis
Balance sheet
Income statement
Definition
A statement of the assets, liabilities, and capital of a business or other organization at a particular point in time, detailing the balance of income and expenditure over the preceding period.
(www.oxforddictionaries.com)
An accounting of income and expenses that indicates a firm's net profit or loss over a certain period of time, usually one year.
(www.dictionaryreference.com)
Objectives/Purpose
The purpose of company financial statements is to evaluate the financial position (balance sheet), profitability (income statement), and cash flow (cash flow statement) of an entity. The balance sheet is the foundation of the entity.
The income statement serves several important purposes:

To show how the business has performed and whether it has made an acceptable profit.
To identify whether the profit earned by the business is sustainable.
To enable comparison with other similar businesses (e.g. competitors) and the industry as a whole.
To allow providers of finance to see whether the business is able to generate sufficient profits to remain viable
To allow the directors of a company to satisfy their legal requirements to report on the financial record of the business.

Synonyms
Annual report, assets and liabilities, report, ledger and budget
Operating statement, earnings report, statement, profit and loss statement
Types
Its types are:

Personal balance sheet
US small business balance sheet

Its types are:

Classified income statement
Comparative income statement
Condensed income statement
Contribution margin income statement
Single step income statement
Cash basis income statement
Partial income statement

Time horizon
State of finances at a snapshot in time.
Changes to finance over a particular period.
Pronunciation

Eng (UK): /ˈbal(ə)ns/ /ʃiːt/
Eng (US): /ˈbaləns/ /SHēt/

Eng (UK): /ˈɪnkʌm/ /ˈsteɪtm(ə)nt/
Eng (US): /ˈinˌkəm/ /ˈstātmənt/

Main function
The main function which is served by the balance sheet is that it provides the information about the liquidity position of the firm.
The main function of income statement is to list all revenue and expense accounts organized into different groups based on the types of revenues and expenses.
Limitations
Its limitations are:
assets being recorded at historical cost
use of estimates
omission of valuable non-monetary assets
It has several limitations:

Items that might be relevant but cannot be reliably measured are not reported (e.g., brand recognition and loyalty)
Some numbers depend on accounting methods used (e.g., using FIFO or LIFO accounting to measure inventory level
Some numbers depend on judgments and estimates (e.g., depreciation expense depends on estimated useful life and salvage value)

Included information
It includes assets, liabilities, shareholders equity.
It includes sales, expenses, and earnings per share.
Known as
It is also known as Statement of financial position.
It is also known as profit loss account; profit loss statement (P&L); revenue statement; statement of financial performance; earnings statement; operating statement; statement of operations.
Advantages/Benefits
Its advantages are:

business snapshot
investors and loans
priorities outline
helpful financial ratios

Its advantages are:

provide detailed information on revenues
database for investor analysis
other benefits

Disadvantages
Its disadvantages are:

It does not show the flows into and out of the accounts during the period.
Some numbers depend on judgments, estimates, and interpretation. Intangible assets are factors that might be highly relevant but cannot be reliably measured.
Financial standards are not always applied to the letter, and balance sheets may not be a true reflection of the financial position of the company.

Its disadvantages are:

misrepresentation of data
other factors
accrual accounting

Example in Sentence

She is confused to prepare a balance sheet.
Balance sheet can be prepared either vertically or horizontally

The shareholders asked for the review of income statement.
The manager gave all the information showing the income statement.