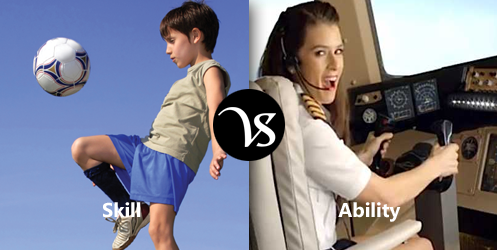 Skills:
A skill is a learned ability to carry out a task or to do something. In other words, the abilities of that one possesses. Skills can be divided into domain-general and domain-specific skills.
Ability:
Ability is the skill to do something. Ability is more or less inherited or has a genetic background. Abilities are stable than the skills.
Differences:
Basis
Skill
Ability
Definition (www.oxforddictionaries.com)
The ability to do something well; expertise
Possession of the means or skill to do something
Synonyms
Expertise, quickness, intelligence, competence and technique
Qualification, skill, strength, capacity and understanding
Antonyms
Ignorance, inability, lack, clumsiness and difficulty
Incapability, ineptness, weakness, incapacity and impotence
Types
The types of skills are:

foundation skills
marketable skills
transferable skills
motivated skills

Its types are:

Mental ability
Psychological ability
Physical ability

Word origin
It was originated from Late Old English scele 'knowledge', from Old Norse skil 'discernment, knowledge'.
It was originated from Late Middle English: from Old French ablete, from Latin habilitas, from habilis 'able'.
Obtained
Skill is learned.
Ability is more or less inherited or has a genetic background.
Performance
Skill is more goals directed because having such can allow a person to attain a higher level of performance.
Possessing abilities does not necessarily equate to exceptional performance.
Stability
Skills are less stable than ability.
Abilities are more stable than skills.
Pronunciation

Eng (UK): /skɪl/
Eng (US): /skil/

Eng (UK): /əˈbɪlɪti/
Eng (US): /əˈbilədē/

Advantages/Benefits
Its advantages are:

Paid more
Enjoy high standard of living
Less likely to lose their jobs
Contribute more to the society

Its advantages are:

Efficiency
Tracking progress
Better management skills
Instilling trust
Reduced stress

Example in Sentence

You need to improve your skills.
Her skill in singing is well known by all.

She has the ability to do the job.
He has confidence in his ability.