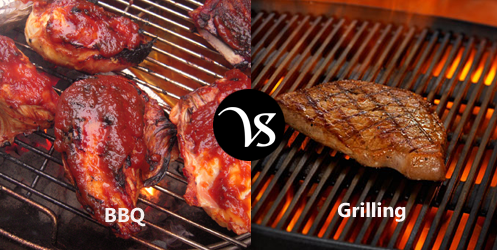 BBQ:
BBQ is the process of cooking food where the food is cooked under low and indirect heat and the food is flavored by smoking process. It takes a long time.
Grilling:
Grilling is the process of cooking where the heat is applied to the surface of the food from below. In this method, the direct heat is provided. It is faster than barbecuing.
Differences:
Basis
BBQ
Grilling
Definition
A meal or gathering at which meat, fish, or other food is cooked out of doors on a rack over an open fire or on a special appliance
A device on a cooker that radiates heat downwards for cooking food
Synonyms
Broiler, fry, bake, roaster, spread
Roasting, toasting, cookery, poaching, burning
History
The Arawak people of South America roasted meat on a wooden structure called a barbacoa in Spanish. For centuries, the term barbacoa referred to the wooden structure and not the act of grilling, but it was eventually modified to "barbeque."
The history of grilling stretches back to caveman days, when a brilliant ancestor of ours discovered that holding meat directly over an open flame for an extended period of time "cooked" the meat.
Word origin
The word BBQ was originated from Mid-17th century: from Spanish barbacoa, perhaps from Arawak barbacoa 'wooden frame on posts'. The original sense was 'wooden framework for sleeping on, or for storing meat or fish to be dried'.
The word grill was originated from Mid-17th century: from French gril (noun), griller (verb), from Old French graille 'grille'.
Pronunciation

Eng (UK): /ˈbɑːbɪkjuː/
Eng (US): /ˈbärbəˌkyo͞o/

Eng (UK): /ɡrɪl/ /ɪŋ/
Eng (US): /ɡril/ /iNG/

Advantages/Benefits
Its advantages are:

Convenience
Juicier meat
Fine smokey taste
Plenty of time
Prevent burning of meat
Avoid toxic fumes
Less calories
Less salt intake
Economics

Its advantages are:

Less fat
Vegetables on the Grill are Better for You
Meat Retains Nutrients
Charring foods gives a distinctive appearance and improves flavor

Disadvantages
Its disadvantages are:

Takes time
Labor intensive
Constant temperature
Monitor fire

Its disadvantages are:

More suitable for expensive cuts of meat
Requires skill

Example in Sentence

I want a barbecue meat.
It takes a long time to barbecue meat.

She is grilling fish for breakfast.
The chef is grilling the meat.