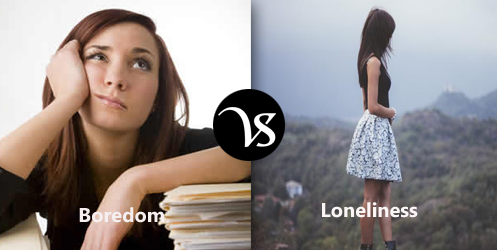 Boredom:
Boredom is the state when one not interested in doing anything. When the boredom occurs the one feels hard to focus.
Loneliness:
Loneliness is the state where one feels that he needs others than himself. This occurs due to the lack of companionship.
Differences:
Basis
Boredom
Loneliness
Definition
The state of feeling bored.
Sadness because one has no friends or company.
Synonyms
Monotony, indifference, fatigue, dissatisfaction, cheerlessness
Aloneness, isolation, privacy, separation, devastation
Antonyms
Fascination, attraction, allurement, stimulation, amuse
Fellowship, assembly, containment, convention, closeness
Types
Its types are:

Indifferent
Apathetic
Calibrating
Reactant
Searching

Its types are:

Interpersonal loneliness
Social loneliness
Cultural loneliness
Intellectual loneliness
Psychological loneliness
Existential or cosmic loneliness

Word origin
The word boredom was originated in 1852.
The word loneliness was originated in between 1600.
Extends to
Boredom may extend to depression.
Loneliness may extend to social, mental or emotional factors.
Pronunciation

Eng (UK): /ˈbɔːdəm/
Eng (US): /ˈbôrdəm/

Eng (UK): /ˈləʊnlɪnɪs/
Eng (US): /ˈlōnlēnəs/

Advantages/Benefits
Its advantages are:

It will help you avoid a tech addiction.
Boredom can boost creativity.
You can discover new hobbies & interests.
Doing nothing can help you cultivate mindfulness.
Unplugging & recharging can relieve stress.

Its advantages are:

Loneliness can cause us to seek God in a deeper Way
Loneliness can be used by God to develop our character
Loneliness can be used by god to Inspire greater creativity
Loneliness can create in us a desire to serve

Disadvantages
Its disadvantages are:
Its disadvantages are:

Loneliness is deadly for elderly
Loneliness linked to heart disease
Living alone can kill healthy diets
Loneliness as dangerous a killer as obesity

Overcome

Find Something to Do
Play a game
Write a list on any subject
Listen to your favorite music and/or dance
Write a letter, story, poem, or anything of your interest
Get a part-time job if you are free for longer period of time
Learn something new in your life
Take a long drive
Avoid day-dreaming

Work on improving and making yourself happy
Consider joining a gym it gives mind a relaxation
Learn a new skill
Do something big
Realize that you aren't alone
Get involved in activities rather than sitting ideally
Do social activities by yourself
Call or get together with the people you know
Spend time with your family
Join an online community

Example in Sentence

She distracted herself from boredom by playing games.
I sang a song to kill my boredom.

I experienced loneliness when my friends did not talk to me.
I think loneliness will kill me.