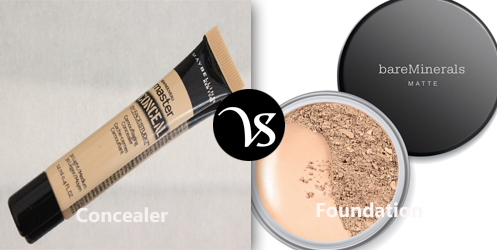 Concealer:
Concealer is a makeup which is used to hide the pimples, black marks, dark circles and blemishes. It is found in various shades. It is high in pigmentation and covers scars. It is applied in problematic areas only. It is also known as color corrector. It is a temporary makeup used to hide skin flaws. It can be found in stick, liquid and powder forms.
Foundation:
Foundation is the makeup which is used to enhance the skin color and provide the uniform look. It may be water based, oil based, alcohol based and silicone based. It can be found in stick, liquid, mousse and mineral powder. It creates a base for makeup.
Differences:
Basis
Concealer
Foundation
Definition
(www.oxforddictionaries.com)
A flesh-toned cosmetic stick used to cover spots, blemishes, and dark under-eye circles.
A cream or powder used as a base to even out facial skin tone before applying other cosmetics
Objectives/Purpose
The primary purpose of a concealer is to offset the natural shadows that occur under the eyes and, in more elaborate makeup applications, to highlight certain areas of the face such as the center of the nose, forehead, top of the cheekbones, or center of the chin.
Foundation helps to even out skin tone and serves as a base for blush, bronzer, et c.
Synonyms
Carrier, discloser, disseminator, flaunter, displayer
Base, creation, root, ground, origin, basis
Types
Its types are:

Liquid concealer
Stick concealer
Cream concealer
Cream to powder concealer
Color correcting concealer

Its types are:

Liquid or cream foundation
Tinted moisturizer
Oil based foundation
Sheer foundation
Oil free or Matte foundation
Mousse or Whipped foundation
Stick foundation
Powder or compact foundation
Mineral foundation
Shimmer foundation
Waterproof foundation
Foundation primer

History
Max Factor a well-known cosmetician was the first to create the concealer back in 1938.
In 1914, Max Factor famously created "Pan-Cake", a version for film and movies.
Word origin
The word concealer was originated in 1514.
The word foundation was originated from Late Middle English: from Old French fondation, from Latin fundatio(n-), from fundare 'to lay a base for'.
Usage
Concealer is used to hide pimples, blemishes and scars.
Foundation is used to enhance the color of the skin and provide a uniform look.
Application
Concealer is only applied to smaller, problematic areas.
Foundation is applied to larger areas, like the face and neck,
Pronunciation

Eng (UK): /kənˈsiːlə/
Eng (US): /kənˈsēlər/

Eng (UK): /faʊnˈdeɪʃ(ə)n/
Eng (US): /founˈdāSH(ə)n/

Advantages/Benefits
The benefits of using concealer is:

A perfect looking skin
Lightening dark circles
Highlight beauty features
Hiding under eye puffiness
Heal skin blemishes
Protect skin from sun

The advantages of using foundation are:

Improve appearance
Hide fine lines, wrinkles or blemishes
Protects from sun and pollution
Corrects flaws
Smoothening skin
Covers scars

Disadvantages
Its disadvantages are:
Its disadvantages are:

Cakey look
Hard to get the right brand
Clog the pores and cause acne

Example in Sentence

She uses a concealer to cover dark circles.
Concealer should not be used to the entire face.

I applied foundation before makeup.
She applied the powder after the foundation.