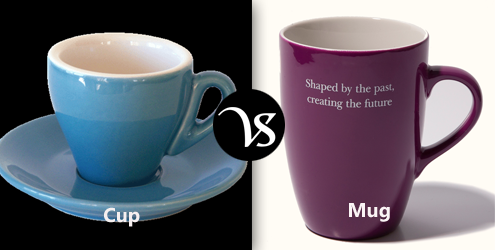 Cup:
A cup is a small container which is used for drinking fluids. It consists of handle. It is made up of glass, plastic, metal or other materials. It may be found in various types as well as sizes.
Mug:
Mug is a type of cup which is larger than the cup and used for drinking hot beverages. it consists of a handle. It is cylindrical in shape.
Differences:
Basis
Cup
Mug
Definition
(www.oxforddictionaries.com)
A small bowl-shaped container for drinking from typically has a handle.
A large cup, typically cylindrical with a handle and used without a saucer
Synonyms
Glass, bowl, palm, beaker, bleed
Gull, dupe, pushover, countenance, visage, assault
Word origin
The word cup was originated from Old English: from popular Latin cuppa, probably from Latin cupa 'tub'.
The word mug was originated from Early 16th century (originally Scots and northern English, denoting an earthenware bowl): probably of Scandinavian origin; compare with Norwegian mugge, Swedish mugg 'pitcher with a handle'.
Pronunciation

Eng (UK): /kʌp/
Eng (US): /kəp/

Eng (UK): /mʌɡ/
Eng (US): /məɡ/

Made of
Coffee cups are typically made of glazed ceramic, and have a single handle for portability while the beverage is hot.
Historically, mugs were often carved in wood or bone or shaped of clay. Today modern mugs are made with ceramic materials such as earthenware, bone china, porcelain, or stoneware. Some are made from strengthened glass, such as Pyrex.
Example in Sentence

I will drink a cup of coffee.
She invited him for a cup of tea.

He poured coffee in a mug.
He took a sip from his coffee mug.