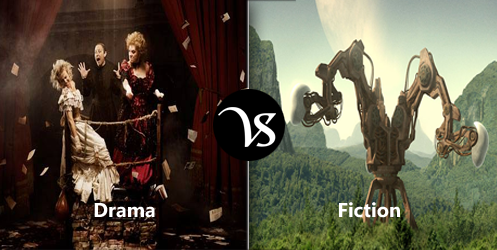 Drama:
Drama is a type of literary work in the form of novel, movie, play, television show or dance. Drama is a play which is written out as a script. Drama includes the music and dance as well. Some dramas are written not to be performed but to be read.
Fiction:
Fiction is the literature that is not true. It is the imagination of the writer. The fiction writers create characters, dialogues and plots from the imaginations. The types of fictions are: short story, novella and novel. Fiction may also be viewed as a form of entertainment.
Differences:
Basis
Drama
Fiction
Definition (www.oxforddictionaries.com)
A play for theatre, radio, or television
Literature in the form of prose, especially novels, that describes imaginary events and people.
Synonyms
Play, theater, show, scene and comedy
Narrative, tale, myth, novel and fantasy
Antonyms
Comedy and tragedy
Reality, truth and non-fiction
Types
Its types are:

Comedy
Tragedy
Farce
Melodrama
Musical drama
Fantasy
Problem play
Comedy of manners

Its types are:

Commercial fiction
Literary fiction

History
Their origins remain obscure, though by the 5th century BC they were institutionalised in competitions held as part of festivities celebrating the god Dionysus.
One of the world's earliest known novels was written by a young Japanese noblewoman.It is called the Tale of Genji and dates to about 1010AD. Daśakumāracarita by the Sanskrit writer Dandin dates to the 6th or 7th century. Other older works, the Aeneid (29-19BC), the Iliad & the Odyssey (8th & 9th century BC), Beowulf (750-1000Ad) and the Epic of Gilgamesh (1300-1000BC) and the Ramayana (400BC to 200 CE) are just some works from the early history of fiction.
Uses
Its uses are:

Develops empathy
Builds cooperation and develops other social skills
Entertaining
Offers a learning avenue
Consider moral issues
Increases concentration

Its uses are:

Form of entertainment
Used in propaganda and advertising
Used for educational and learning purposes

Pronunciation

Eng (UK): /ˈdrɑːmə/
Eng (US): /ˈdrämə/

Eng (UK): /ˈfɪkʃ(ə)n/
Eng (US): /ˈfikSH(ə)n/

Word origin
It was originated in the Early 16th century: via late Latin from Greek drama, from dran 'do, act'.
It was originated from Late Middle English (in the sense 'invented statement'): via Old French from Latin fictio(n-), from fingere 'form, contrive'.
Advantages/Benefits
Its benefits are:

Self confidence
Imagination
Empathy
Cooperation
Concentration
Communication skillsFun
Emotional outlet
Physical fitness
Memory
Appreciation for arts and culture

Its advantages are:

Explore abstract human experiences
Deepens our appreciation for concrete human experience
Expands our range of experiences
Provides beauty and creativity to be enjoyed

Disadvantages
Its disadvantages are:

Children can get disorderly and over-excited
Some students may feel inadequate or self-conscious compared to those who are naturally good at drama
Some children may see it as an opportunity to avoid "real" work
Not everybody likes drama
Not all students will be kinesthetic learners
The focus of the activity is often lost, especially with younger groups of students

Its disadvantages are:

Fiction makes your mind flabby
Stories can leave you dissatisfied with reality
Novels stroke the emotions
Sensational works can numb the soul to tragedy

Example in Sentence

I don't want to see your drama.
You are such a drama queen.

She took a fiction book from the library.
He wrote a fiction novel.