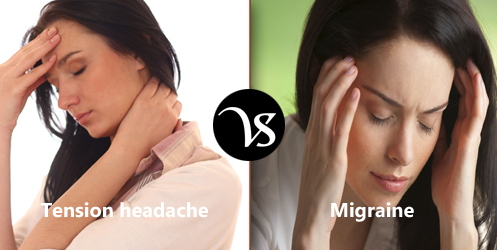 Tension headache:
A tension headache is a common type of headache which can cause a mild or intense pain in a head. It lasts for 30 minutes to several hours. It can occur at any age but most commonly seen in teens and adults.
Migraine:
A migraine is a severe, painful headache on one side of the head. The pain may be terrible. It lasts for hours or even days. It might make a person dizzy or very sensitive to bright lights or loud noises. The main causes of migraine are still unknown.
Differences:
Basis
Tension headache
Migraine
Definition
(www.oxforddictionaries.com)
A headache resulting from muscular tension (usually of the neck or shoulders), especially as a consequence of stress.
A recurrent throbbing headache that typically affects one side of the head and is often accompanied by nausea and disturbed vision.
Synonyms
Headache, cephalagia, head ache
Megrim and headache
Types
The types of tension headaches

Episodic tension headaches
Chronic tension headache

Its types are:

Migraine without aura
Migraine with aura
Migraine without headache
Migraine with Brainstem Aura
Hemiplegic Migraine
Retinal migraine
Chronic migraine

Word origin
It was originated in 1940s; earliest use found in The New York Times.
It was originated from Late Middle English: from French, via late Latin from Greek hēmikrania, from hēmi- 'half' + kranion 'skull'.
Sensitivity to light or sound
It is rare.
It is typical.
Runny nose and red, watery eye
It is absent.
It is rare.
Location of pain
The pain is typically generalized, with the areas of the more intense pain in the scalp, forehead, temples or the back of the neck. It is usually bilateral.
Deep stabbing pain around the temple or eye.
Severity of pain
It is mild to moderate in severity.
Ranging from moderate to quite severe.
Time of onset
The pain develops gradually, fluctuates in severity and then can remain for several days.
It is long, headache gradually peaks in around 4-24 hrs.
Triggers
It is due to stress.
It is due to bright lights, loud noises, changes in sleep patterns, exposure to smoke, Skipping meals etc.
Pronunciation
Eng (UK): /ˈtɛnʃ(ə)n/ /ˈhɛdeɪk/
Eng (US): /ˈtenSHən/ /ˈhedˌāk/
Eng (UK): /ˈmiːɡreɪn/ /ˈmʌɪɡreɪn/
Eng (US): /ˈmīˌɡrān/
Prodromal aura before headache
It is absent.
It is present.
Symptoms
Its symptoms are:

Dull, aching head pain
Sensation of tightness or pressure across your forehead or on the sides and back of your head
Tenderness on your scalp, neck and shoulder muscles
Mild to moderate pain or pressure affecting the front, top or sides of the head
Headache occurring later in the day
Difficulty falling asleep and staying asleep
Chronic fatigue
Irritability
Disturbed concentration
Mild sensitivity to light or noise
General muscle aching

Its symptoms are:

Constipation
Depression
Food cravings
Hyperactivity
Irritability
Neck stiffness
Uncontrollable yawning

Causes
Its causes are:

Inadequate rest
Poor posture
Emotional or mental stress, including depression
Anxiety
Fatigue
Hunger
Overexertion
Eyestrain

Its causes are:

Allergies and allergic reactions
Bright lights, loud noises, flickering lights, smoky rooms, temperature changes, strong smells and certain odors or perfumes
Physical or emotional stress, tension, anxiety, depression, excitement
Physical triggers such as tiredness, jet lag, exercise
Changes in sleep patterns or irregular sleep
Smoking or exposure to smoke
Skipping meals or fasting causing low blood sugar
Dehydration
Alcohol
Hormonal triggers such as menstrual cycle fluctuations, birth control pills, menopause
Tension headaches
Foods containing tyramine , MSG, or nitrates
Medication such as sleeping tablets, the contraceptive pill, hormone replacement therapy.

Treatment
The treatment of tension headache are:

applying a heating pad or ice pack to your head for five to 10 minutes several times a day
taking a hot bath or shower to relax tense muscles
improving your posture
taking frequent computer breaks to prevent eye strain

The treatment of migraine are:

Getting enough sleep
Reducing stress
Drinking plenty of water
Avoiding certain foods
Regular physical exercise
Medication
Prophylactic therapies (prevention)

Example in Sentence

She has a tension headache.
A long hot shower may relieve a tension headache.

Her mother has a migraine.
Migraine can be extremely painful.