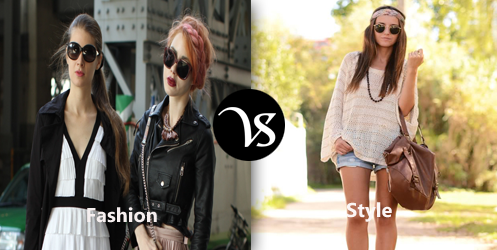 Fashion:
Fashion is the present style of dressing such as makeup, footwear, hair, accessories. It is dynamic and changes with time. It provides a great impact on a society. It remains for a particular time or season.
Style:
Style is the way of representing things. It is more about being yourself. It is personal and unique. It remains same no matter what the fashion is. It may be the unique way of speaking, unique pairing of accessories, unique way of carrying yourself etc.
Differences:
Basis
Fashion
Style
Definition (www.oxforddictionaries.com)
A popular or the latest style of clothing, hair, decoration, or behaviour
A particular procedure by which something is done; a manner or way
Synonyms
Make, construct, frame, rage, method, trend
Mode, technique, elegance, entitle, label, approach
Antonyms
Baseness, devastate, raze, consume, deform
Acerbity, beastly, abusive, asperity, beastly
Types
Its types are:

Haute culture
Ready to wear
Mass market

Its types are:

Classic – conservative, timeless, traditional, crisp
Feminine – soft, romantic, charming, delicate
Trendy – creative, unique, fashion-forward
Sporty – casual, easy, practical
Dramatic- eccentric, bold, distinctive, theatrical

Word origin
The word fashion was originated from Middle English (in the sense 'make, shape, appearance', also 'a particular make or style'): from Old French façon, from Latin factio(n-), from facere 'do, make'.
The word style was originated from Middle English (denoting a stylus, also a literary composition, an official title, or a characteristic manner of literary expression): from Old French stile, from Latin stilus. The verb dates (first in sense 2 of the verb) from the early 16th century.
Pronunciation

Eng (UK): /ˈfaʃ(ə)n/
Eng (US): /ˈfaSHən/

Eng (UK): /stʌɪl/
Eng (US): /stīl/

Time period
It is temporary.
It is permanent and timeless.
Example in Sentence

Nowadays shorts are in a fashion.
I know all about the latest trend in fashion.

I like her style of dressing.
I changed my hair style.