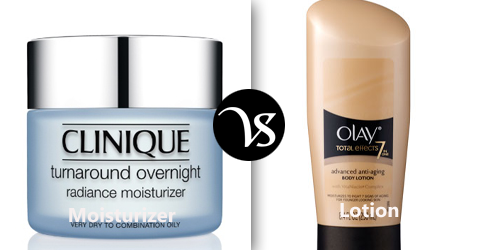 Moisturizer:
Moisturizer is a cream which is used to moisturize the skin. It is thicker in consistency. It is used for the face. Various types of moisturizers are found in the market according to the skin type.
Lotion:
Lotion is a cream which is used in the body. It is lighter in consistency. It may be used for various purposes such as sun protection, reducing acne, etc. Lotion should be selected by considering the labels and skin type.
Differences:
Basis
Moisturizer
Lotion
Definition (www.oxforddictionaries.com)
A cosmetic preparation used to prevent dryness in the skin
A thick, smooth liquid preparation designed to be applied to the skin for medicinal or cosmetic purposes
Synonyms
Cream, emollient
Ointment, application, cerate, salve, cream
Types
Its types are:
Its types are:

Bath lotion
Milk bath
Body lotion
Baby lotion
Hand lotion

Word origin
The word moisturizer was originated in between 1955-60.
The word lotion was originated from Late Middle English: from Old French, or from Latin lotio(n-), from lot- 'washed', from the verb lavare.
Base
Moisturizers have a higher oil base.
Lotions have a higher water base.
Consistency
Moisturizers are of thicker consistency.
Lotions are of thinner consistency
Use
Moisturizers are usually made for the face.
Lotions are usually made for the body
Pronunciation

Eng (UK): /ˈmɔɪstʃərʌɪzə/
Eng (US): /ˈmoisCHəˌrīzər/

Eng (UK): /ˈləʊʃ(ə)n/
Eng (US): /ˈlōSH(ə)n/

Advantages/Benefits
Its advantages are:

Boost hydration
Creates a protective layer

Its advantages are:

Moisture
Sun screen
Replenish extra dry or rough spots on the skin
Glowing skin

Example in Sentence

I always use moisturizer after cleansing the face.
A good quality moisturizer is needed to get good results.

A lotion with SPF is needed while going outside.
As my skin was dry, I rubbed a lotion.