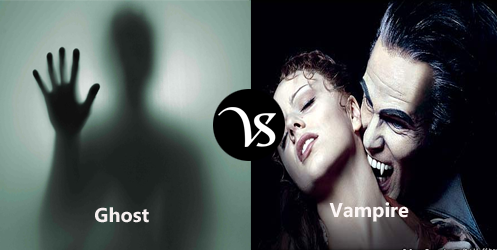 Ghost:
Ghost is the spirit of the dead person. Scientist says that there exists no ghost. Ghost can be perceived through sight, sound, smell, and touch or sensed.
Vampire:
Vampire is a mortal who lives upto 1000 years and drinks blood of humans or animals by biting on the neck in order to survive. Garlic, holy water and silver are known as the weakness of vampire.
Differences:
Basis
Ghost
Vampire
Definition (www.oxforddictionaries.com)
An apparition of a dead person which is believed to appear or become manifest to the living, typically as a nebulous image
A corpse supposed to leave its grave at night to drink the blood of the living by biting their necks with long pointed canine teeth.
Synonyms
Spirit, shade, haunt, soul, demon
Demon, devil, monster, ghoul, ghost
Types
Its types are:

The Interactive Personality
The Ectoplasm or Ecto-Mist
The poltergeist
Orbs
Funnel Ghosts

Its types are:

Blood drinkers
PSI vampires
Emphatic vampire
Sexual vampires
Soul vampire
Genetic vampire
Insane vampire
Disfigure vampire
Literary and Movie movies

History
Traces of these beliefs survive in the later Abrahamic religions that came to dominate the region. Ghosts were thought to be created at time of death, taking on the memory and personality of the dead person.
The notion of vampirism has existed for millennia; cultures such as the Mesopotamians, Hebrews, Ancient Greeks, and Romans had tales of demons and spirits which are considered precursors to modern vampires.
Word origin
The word ghost was originated from Old English gāst (in the sense 'spirit, soul'), of Germanic origin; related to Dutch geest and German Geist. The gh- spelling occurs first in Caxton, probably influenced by Flemish gheest.
The word vampire was originated from Mid-18th century: from French, from Hungarian vampir, perhaps from Turkish uber 'witch'.
Body
They are immaterial; they have no physical body.
They are super natural beings, who can turn into bats.
Characteristics

It is an invisible presence, translucent or barely visible wispy shapes, or realistic visions.
It is a solitary essence that haunts particular locations, objects, or people.

They are considered as bloated in appearance.
They have ruddy, purplish, or dark in color.
Blood was seen seeping from the mouth and nose.
The left eye of the vampire was open in their shroud or coffin.
They would be buried in linen shroud.

Beliefs

Dead people looking for vengeance.
People held back on earth for bad things they did during life.
Their appearance is regarded as an omen or portent of death.

They have abilities such as ESP, telepathy, telekinesis.
They can turn into bats. They are vulnerable to the sun which causes them to burn horrifically.
They have the ability to glitter.
The Crosses, Wooden stakes, Holy water, certain herbs (vervain), garlic and silver are weaknesses of vampires.

Pronunciation

Eng (UK): /ɡəʊst/
Eng (US): /ɡōst/

Eng (UK): /ˈvampʌɪə/
Eng (US): /ˈvamˌpī(ə)r/

Advantages/Benefits
The advantages of ghost are:
The advantages of being a vampire are:

You can live forever if you are careful.
You will be a lot more powerful than a regular human being.
You will look young forever – you won't age – both internally and externally.
You can hypnotize and compel others to do things for you with ease.
Your blood will have the ability to heal your friends.

Disadvantages
Its disadvantages are:

Can't live a normal human life

Its disadvantages are:

You can't venture out into the sunlight as it will destroy you. No more walks in the beautiful sunlight or lying in it for a tan. If you want to do anything good you will have to set out only at night – unless you find a country where the sun hardly shines.
Living forever can also be a disadvantage as all your friends and your family will age, but you won't. You will have to make new friends year after year, unless you have only other vampire friends. Also, living for that long could make life extremely boring as you will run out of interesting things to do.
You will have to give up the joy of eating any food as all you can feed on and digest is blood. This could be a cruel thing to do too. If you're a good person you won't enjoy feeding on others blood.
You could become a cruel being, feared by, and isolated from others.

Example in Sentence

Some people do not believe that ghost exists.
I am afraid of ghost.

The vampires don't go out in the sunlight.
Vampire and werewolf are natural enemies.