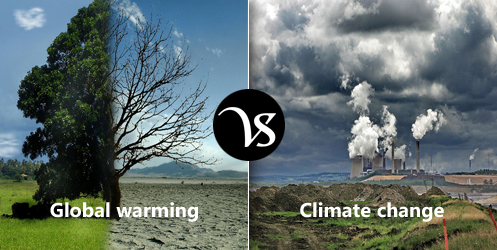 Global warming:
Global warming is the increase in temperature of earth's temperature. Global warming is a worldwide phenomenon. Global warming is the human expansion of the greenhouse effect.
Climate change:
Climate change is the difference in the Earth's global climate or in regional climates over time. Climate change is caused by biotic processes, variations in solar radiations received by Earth, plate tectonics, and volcanic eruptions.
Differences:
Basis
Global warming
Climate change
Definition (www.oxforddictionaries.com)
A gradual increase in the overall temperature of the earth's atmosphere generally attributed to the greenhouse effect caused by increased levels of carbon dioxide, CFCs, and other pollutants.
A change in global or regional climate patterns, in particular a change apparent from the mid to late 20th century onwards and attributed largely to the increased levels of atmospheric carbon dioxide produced by the use of fossil fuels.
Reference
It refers to the increasing change in the Earth's average temperature.
It refers to the changes in the wind, precipitation, the length of seasons and the strength and frequency of extreme weather events.
Phenomenon scale
It is worldwide phenomena.
It is seen at a more regional or local scale.
Causes
The causes of global warming are:

forest fires
permafrost
sunspots
water vapor
deforestation
fossil fuels
landfills
overpopulation
mining
fertilizer use
meat consumption

The causes of climate change are:

natural causes
human causes
short lived and long lived climate forcers

History
In the 1820s Joseph Fourier calculated that the surface of the earth was considerably warmer than one would expect for an object of its size, at its distance from the Sun assuming incoming solar radiation was the only source of warming. Fourier considered a number of possible explanations including that the Earth's atmosphere might act as an insulator of some kind which became known as the Greenhouse effect.
The history of the scientific discovery of climate change began in the early 19th century when ice ages and other natural changes in paleoclimate were first suspected and the natural greenhouse effect first identified.
Word origin
It was originated in between 1975-80.
It was originated in between 1980-85.
Pronunciation

Eng (UK): /ˈɡləʊb(ə)l/ /wɔːm/ /ɪŋ/
Eng (US): /ˈɡlōbəl/ /wôrm/ /iNG/

Eng (UK): /ˈklʌɪmət/ /tʃeɪn(d)ʒ/
Eng (US): /ˈklīmit/ /CHānj/

Advantages/Benefits
Its benefits are:

more usuable land
longer growing seasons
extra CO2 for plants
north west passage becomes reality
arctic's resources becomes accessible
less energy required for heating
warmer weather is healthier
warmer weather is safer
people enjoy sunny climates
increased interest in alternative energy

Its advantages are:

fewer winter deaths
lower energy costs
better agricultural yields
fewer droughts
richer biodiversity

Disadvantages
Its demerits are:

disrupted ocean circulation
higher sea levels leads to flooding
increased desertification
changes to agricultural production
water shortages
starvation and malnutrition due to food and crop shortages
increased disease
increased deaths due to heat wave
additional animal and plant extinction
additional energy usage
increased pollution
rainfall acidity

Its disadvantages are:

water shortage
flooding
dry weather
higher temperatures
changing landscapes
wildlife at risk
rising seas
increase risk of droughts
heat related illness and disease
economic losses

Example in Sentence

There are several facts about global warming.
Deforestation and fossil fuels are the main causes of global warming.

Climate change is the most terrible problem.
Human activities are the causes for climate change.