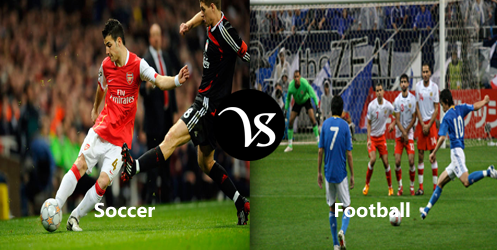 Soccer:
Soccer is the sport played between two teams of eleven players with a spherical ball. The game is played on a rectangular field with a goal at each end. The rule of soccer is except the goalie, players cannot touch the ball with their hands, they can only kick, knee or head the ball to score a goal.
Football:
Football is a sport that involves kicking a ball with the foot to score a goal. In football the ball is shaped like a sphere or an ellipsoide. There are 17 laws of the game to ensure the order and fairness while playing. The match is played with the eleven players in each team.
Differences:
Basis
Soccer
Football
Definition (www.oxforddictionaries.com)
A form of football played by two teams of eleven players with a round ball which may not be handled during play except by the goalkeepers. Also called football and Association football.
Any of various forms of team game involving kicking (and in some cases also handling) a ball, in particular (in the UK) soccer or (in the US) American football
Objectives/Purpose
The main objective of soccer is to score a goal with any part of the body except the arms and hands.
The objective is to move a ball down the field to the opposing teams goal and score more points as possible.
Synonyms
American football, rugby, Canadian football, grid game, association football
American football, rugby, Canadian football, grid game, association football
Types
Its types are:

Five a side football
Futsal
Beach soccer (Beasal)
Indoor soccer (Arena soccer)
Street soccer
Freestyle football
Paralympic football

Its types are:

Association football
Rugby football
Australian rules football
American football
Gaelic football

History
The history of soccer is traced back more than 2,000 years ago to ancient China. Greece, Rome, and parts of Central America also claim to have started the sport, but it was England that transitioned soccer.
England was the first country where the game was developed and codified. The modern global game of football was first codified in 1863 in London.
Word origin
The word soccer was originated in Late 19th century: shortening of Assoc. + -er
The word football was originated in 1350-1400; Middle English fut ball.
Time period
Soccer proceeds continuously through two 45-minutes halves.
Football consists of pauses of as long as 40 seconds between each play in the game, which lasts for four 15-minute quarters.
Field size
A soccer field is slightly lighter, ranging from 100 to 130 yards long and 50 to 100 yards wide.
A football field is 100 yards long by 53 yards wide.
Numbers of players
11 players on the field at any point of time.
11 players including a goal keeper.
Pronunciation

Eng (UK): /ˈsɒkə/
Eng (US): /ˈsäkər/

Eng (UK):  /ˈfʊtbɔːl/
Eng (US): /ˈfo͝otˌbôl/

Major League
National Football League (NFL)
Barclay's Premier League BPL (Eng) Liga BBVA (Spain) Serie A (Italy) Ligue 1 (France) SPL (Scotland) Major league soccer MLS (USA)
Number of Umpires/ Referees
There are 3 to 6 referees plus both reviews.
It consists of 3 referees.
Highest government body
NFL is the highest governing body.
FIFA is the highest governing body.
Advantages/Benefits
Its advantages are:

increases aerobic capacity
improves cardiovascular health
lowers body fat and improves muscle tone
builds muscle strength
increases bone strength
teachers coordination
promotes teamwork and sharing
increases cognitive brain function
increase confidence and self-esteem and helps to reduce anxiety
anyone can play anywhere

Its advantages are:

cardiovascular and health benefits
fitness skills
psychological and social benefits
life skills
team work

Disadvantages
Its disadvantages are:

injuries
team sport
confidentiality problems
health issues
individual's talent
career

Its disadvantages are:

Painful injuries
Fights and aggressions
Time commitment

Example in Sentence

He is a very good soccer player.
His friend likes playing soccer.

He is watching a football match.
The football stadium is very large.